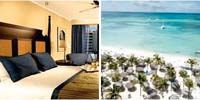 When my husband and I talk about taking a trip, it always goes along the same script:
"How about here?" "Too expensive."
"How about here?" "No good with kids."
"How about here?" "Are you kidding??"
"Fine, let's just go camping."
And don't get me wrong, I like camping, but I'd be okay with a luxury getaway once in a while. Which is why, I suppose, I've recently become addicted to Hotwire's Travel Ticker. The prices appeal to my penny-pinching side, and the wealth of available information appeals to my mom side. Why, perusing the Family Travel section yields all sorts of possibilities I know will work even with kids in tow, and if you think I didn't seriously consider the 4-star Aruba resort deal (kids eat and stay for free!), you are sorely mistaken.
I especially like that I can see TripAdvisor ratings, too, so we're not just blindly going for the good deal without getting the real scoop. This is way better than camping. -Mir
Visit Travel Ticker by Hotwire to find your own great deal on Family Travel.