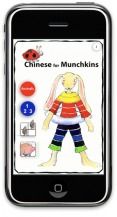 Yesterday my son had a playdate with a little Chinese girl, coincidentally the same day I downloaded Chinese for Munchkins to my iPhone. The amazed look on her face when I asked them if they had seen a hóu zi or a lóng (a monkey or a dragon) at school was priceless.
The look on my son's face was decidedly more, Woman, what are you doing!? Stop being a dork!
Chinese for Munchkins is an adorable app to teach words for animals and numbers to kids, or frankly anyone who wants to learn a little bit about a language that over a billion people in the world speak. There are settings for both Cantonese and Mandarin as well as English if you want to translate the other way. Once kids have mastered the words there are games to reinforce it like a matching memory game with five different levels,
And for those of you who think you can learn a language like Chinese when pigs fly you're in luck; there's another game where kids drag flying pigs into a barn to help teach numbers.
Lisa Ting and Heidy Spurell, the moms behind the app, were motivated by their own bilingual households and I'm hoping that they go ahead and introduce some easy conversational phrases in a future update. Until then, on a scale of yak to sup I give it a sup.
That's a ten. -Betsy
Download the Chinese for Munchkins iPhone app for 99¢ at the app store on iTunes.