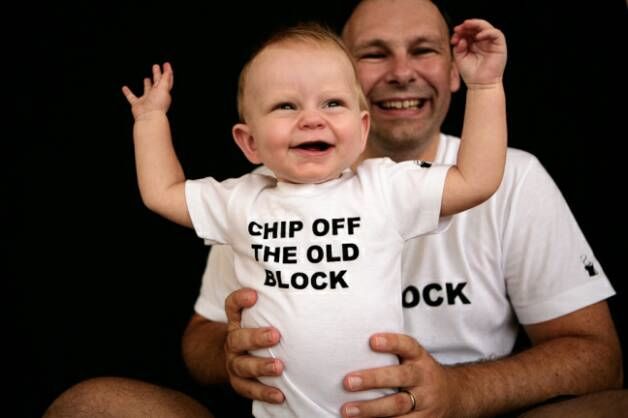 Oh stop it you cynics. Most dads — especially the new ones — would be thrilled to spend Father's Day flouting their dadness on their chest, and that of their doting progeny. So we've tracked down a few of the more clever daddy and me sets, just perfect for that special guy on June 20.

And trust me, there were a lot of bad ones to weed through. -Christina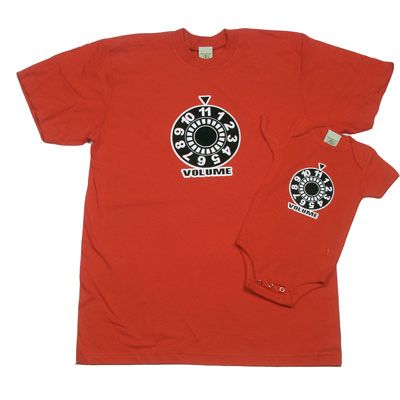 I'm not sure who is louder, my husband or the kids, which may explain why I feel such affinity for
Baby Wit's Volume Tee set
. Spinal Tap fans will appreciate that the dial is set to 11, which just about sums up the sound of my house most days. ($42 for set)
Diaper Dude's
Hardcore Daddy/Baby set for your pair–I adore the fierce wheels
featured on each shirt. ($34.99)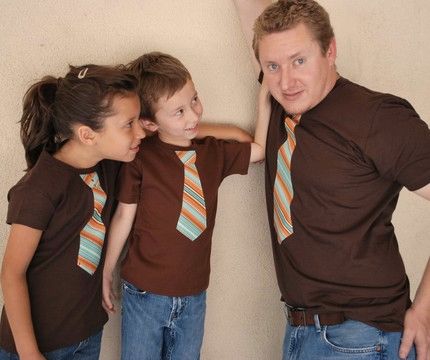 tie tees from Super Sweet Creations. If your brood is cool enough to pull off this look ironically (you know who you
are), make sure you all go out together wearing the shirts, and
watch the heads' turn. ($60 for 3 shirts)
Wooster
Street Meats' Proscuitto and
Lil Proscuitto onesie and
tees
. You can also go with the matching Cannoli shirts if daddy's got a sweet
tooth. ($19-$35)
.
If you have your own special message you want on a tee,
baby and kids
with a huge range of colors, type faces, and designs. So basically if no one smiles at your hilarious matching tees on Father's Day, you'll only have yourself to blame. (from $17.85)
Update: For more great gift ideas for dads, visit our new
2010 Father's Day Gift Guide
!