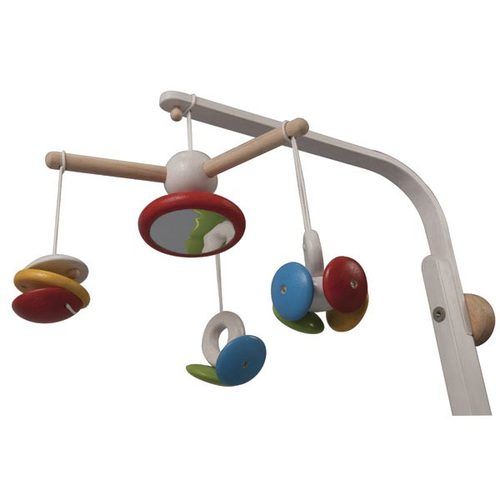 I'm all for low-tech crib mobiles, because who wants to get their newborn hooked on all that music and blinking lights at bedtime? I'm more about getting them used to something mellow and manual, as with Plan Toys' new Rattle Crib Mobile.
Despite the name, the Rattle Mobile doesn't really make noise — it gets its name from the three removable handheld rattle-and-grasping toys that your baby can play with when the mobile isn't in use — nice bonus. When attached to the side of a crib though, the three toys gently sway above or spin if you give the mobile a little hand-powered push.
No neon, no beeping, whirring, flashing or humming, and no cartoon eyes staring down at your little sleeping guy. Just recycled rubberwood and bright, non-toxic paint colors to lull your baby off to slumberland as it sways, sways, sways above. I don't know about you, but I think I need a nap. -Christina


Congratulations to Kalee T, lucky winner of the Plan Toys rattle mobile!