I didn't think it was possible to love Converse sneakers any more that I already do until I stumbled upon their new line of Dr. Seuss shoes and–surprise!–my obsession continues. Now, I don't think I could get away with the adult versions, though my 20-year old inner hipster begs to differ. However, the kids' Dr. Seuss shoes are ridiculously cute.

Take the awesome "Thing 1" high tops or if you prefer, the low tops (at right) that feature Thing's little mug on the ultra cool double tongue. I also really like the Cat in the Hat inspired chucks, which pay a literal homage to the character without soaking them in his image – very smart indeed.
The little guy from If I Ran the Zoo (above) is pretty darn awesome on those black high tops, and if you're a One Fish, Two Fish, Red Fish, Blue Fish fan, there are a couple of toddler options just for you.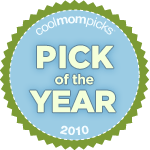 Either way, these will be a perfect, playful addition to a kid's sneaker collection. Right. For your kids. -Kristen
Purchase the Chuck Taylor All Star Dr. Seuss sneakers at Converse.com