There's just no comparison to the feel of handmade ceramics,
knowing that an artisan's hands shaped the clay and followed inspiration
to decorate something just for you. Don't moms deserve
little islands of peace and beauty in our hectic lives?

If I needed a new
mug right now, I'd be browsing the yogagoat shop
on Etsy. Artist Amanda Ryznar also has bowls, vases, wedding gifts, and
lovely, custom fortune cookies. But what really catches my eye and makes
me mutter Serenity Now are the carved plates and bowls, which would
be perfect for a slice of my birthday cake this October.
Amanda throws each
piece on the wheel in porcelain, then draws the images freehand through
colored slip, which takes hours of patience and skill. Then the piece is
high-fired until it's dishwasher safe and more durable than you
would think. Buy what you like on the site, or send her a custom order and in 4-6 weeks it's yours.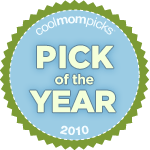 Let's face it– once your kid can crawl, you cede a lot of territory.
Your books are ripped gaily from the shelves. Your keyboard is covered
in peanut butter. Even your morning bathroom time becomes a spectator
sport. But there are two things I never share with my children: My
coffee, and a handmade mug like this one. –Delilah.
Find handmade porcelain mugs and more at yogagoat.