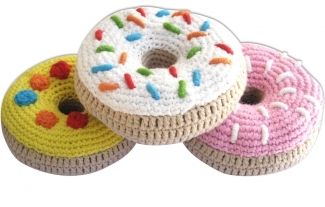 When I was pregnant with my first daughter, now six, rattles that were actually cute, functional, and not made completely of plastic were just starting to make it onto the scene. Well it seems that now cuteness and a bit of hilarity abounds at every shake, like with these new Yellow Label doughnut rattles.

We've long admired the funny and creative minds behind Yellow Label Kids since back when we drooled over their sushi rattles. And so not surprisingly, the new doughnut rattles are a hit with us too. Modeled after their popular pretend donut toys, these fair trade hand crocheted rattles transitions from fantastic baby gift into toddler play kitchen essential with just a little time and a little wash and dry.
And really, there's just something awesome about a wee little baby munching on a strawberry glazed doughnut for photo ops. -Kristen
Check out the awesome fair trade baby toys at Yellow Label Kids. And for more unique baby shower gifts, bookmark our Baby Shower Gift Guide.