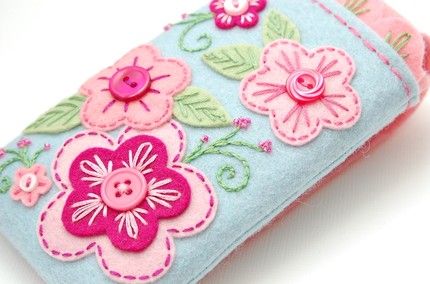 I'm a bit of an Etsy junkie, and I often find myself scouring their virtual craft tables late into the evening on a mission to track down coolness. Last night's spoils: The intricate embroidery designs at Sew Sweet Stitches.

The gorgeous handiwork by mom and artist Melissa Davison has me puzzling over which of her spectacular creations I want first. The tech mama in me is definitely adding her lovely iPhone/iPod cozies
to my wish list, with their cool combination of bright
threads and beads. The headphones pocket in the
back is a smart touch.
My inner fashionista is coveting the embroidered
jewelry which incorporates vintage buttons and beads in a very unique
way. However, being a mom above all, of course my very first choice are the bright, fun felt barrettes
for my two girls– particular the nautical hair clips which instantly caught my eye.
Suffice it to say that this is a shop to bookmark for gifts for the person who has everything. Or, you know, me. -Kristen
You'll find a slew of unique embroidered jewelry, hair accessories, cozies, and more at Sew Sweet Stitches.