Danielle asked us on Twitter for some birthday gift ideas for a 5 year old boy, since her son is about to hit the big number five. She says he likes "things that go" but already has 400 cars. He also likes art projects and writing notes.

We have some great ideas for you, Danielle!

I have an almost-six year old son, so I was excited to answer your question about good gift ideas for your little guy. It sounds like he has more than enough vehicles already, so I'll try to stick to gifts that don't involve little tiny wheels. -Christina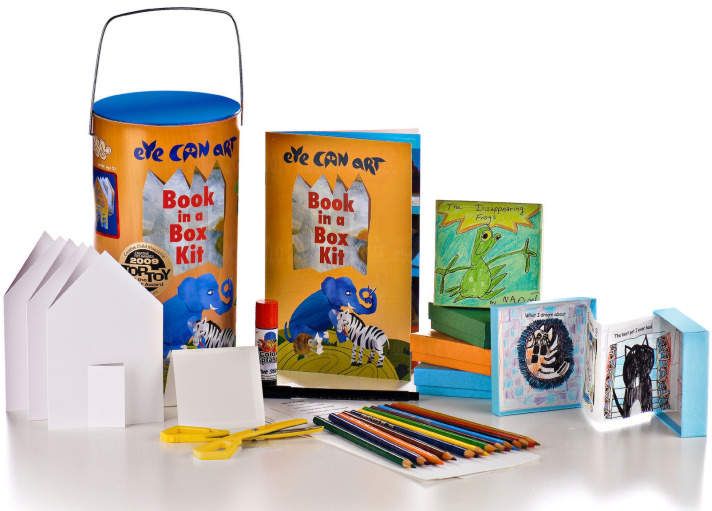 Since he likes both art projects and writing notes, why not let him become a little author at the ripe old age of five? The
Book-in-a-Box Kit
from
Eye Can Art
has everything he needs in one place, and in the end you get a fabulous keepsake.

I also love gifting new art supplies like the all-natural ones from Clementine Arts every year since markers, paints and even crayons get kind of run down and beat up after a year.


The
Fortamajig
is a very cool way for kids to set up a little hideaway no matter where they are. Made of super-strong material, the velcro straps make it easy to set up a fort outside or indoors. My nephew loves his portable secret hideaway and his mom loves that it all folds up to take up almost no space at all when it's not in use.
We recently featured this
amazing cardboard castle
from
Joe's Toy Box
, and I can see my son going bananas for it. He'd spend hours decorating it and then lording over it as a king should. Since it's cardboard it could even go outside provided it comes indoors at the end of playtime. And when he's grown too big for his quarters, the whole thing is recyclable, another feature I love.
The next couple of ideas have wheels, but at least they are ones your son can ride. I adore our
Mini Kick scooter
which both of my younger kids ride almost daily. It is super light-weight, turns on a dime and rides nicely over less-than-smooth sidewalks.

If he doesn't yet have a two-wheel bike, it makes a great 5-year-old gift, especially if grandparents are looking for one big "wow" gift. My son is riding a Trek that has been passed down by his two older sisters, and it was definitely money well spent. Or if your son needs a little help in learning to ride, skip the training wheels and check out the Gyrowheel, a super cool-looking stable wheel that spins to make learning to ride on two wheels much easier. I got to try it out at Toy Fair this year, and I can assure you, it's very cool.
Finally,
Helicopter Studio's Discovery Tote
is a great toy especially if your son will be on the go a lot this year. Throw in a few army men figurines or some of those little cars he has, and he has an imaginative playscape. If you have a specific theme in mind, email artist Shannon directly and she can help put together exactly what you need.
Hope he has a great birthday and hope these ideas help!