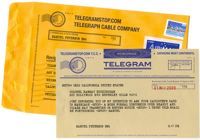 It's unlikely that you need to let anyone know that the stagecoach is likely to be late or that there's trouble at the train depot, but why should that stop you from adding a vintage twist to that special message? If you go to Telegram Stop, for under $6 you can send an official-looking old-time-y telegram anywhere in the world. How great is that?

If you don't mind straying from the retro theme, you can even
include pictures. Send a single message (Congratulations on your new
baby -(STOP)-) or use their handy bulk interface to send duplicates to
multiple recipients (Baby arrived on Tuesday -(STOP)- Ten fingers and
toes -(STOP)- Family exhausted but happy -(STOP)-).
Want to use it for
invitations? You can pay a little bit extra for luggage-tag style RSVP
cards, too. How mean would it be to use these as era-appropriate
invitations to my husband's 40th birthday party? Just wondering.
-(STOP)- -Mir
Visit Telegram Stop to send telegrams anywhere in the world.
[Hat tip: swissmiss]