When it comes to iPhone apps and kids, I'm a big believer that simple is better. Too many bells and whistles usually means too many "Mom, come fix this!" calls from the other room. (And it's usually far more dire sounding and less polite than that.)
Well, pair my love of simplicity with my love of all things cute-as-a-button, and you'll see why I'm oohing and ahhing over Paper Town Friends, a new app that my kids and I are absolutely nuts about.


This sweet game is kind of like a book of paper dolls on your
iPhone. Every element of the game is made from actual paper cut-outs.
Seriously, it's an absolute work of art.
(Inside scoop: the designer,
Robin Rosenthal is a graphic designer and illustrator whose nursery posters we've previously raved about, and was an art
director for Martha Stewart Kids magazine.)
Kids start by choosing one of six adorable characters–we're
partial to the little gray kitten over here–and then scrolling through a
wide selection of clothes and accessories to get them dressed.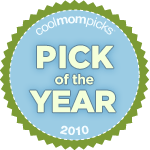 Once they're satisfied with their little paper creation, it's a
very easy process for them to save it to the camera roll. And then go on
to design brand new little paper friend after friend after friend.
Which explains why I now have a growing collection of monkeys in
space suits and frogs in bikinis fast appearing in the Photos section
of my iPhone.
As I just wrote in an email to Liz about this, this is seriously the cutest app I've ever seen. –Stephanie
Download Paper Town Friends, the paper doll iPhone app for kids, from their website.