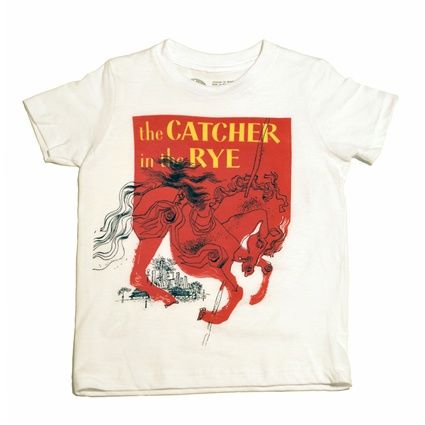 The mission of past CMP pick, Out of Print Clothing is to spread the joy of reading. Through fashion. Hey, two of our favorite things? And, now, they have expanded their collection to include t-shirts for kids.


Find shirts featuring cover of the first edition of the Catcher in the Rye (so hipster chic), Brave New World, and Pride and Prejudice or go for the infamous cover of Moby Dick. Although, that could lead to some schoolyard shenanigans if your kids are old enough to make, uh…Moby Dick jokes.
What's
particularly great is that Out of Print Clothing donates a book to a
community in need for every shirt purchased. And this month, they'll be
sending a 40-foot sea container of boxes of donated books to schools and
libraries in Dar es Salaam, Tanzania. That's a heck of a lot of books.
So,
buy a shirt for yourself or for your kids and wear it proudly. Show off
your intellect. Show off your good will towards man. Heck, show off
the fact that you still read. -Elizabeth
Check out the new kids collection at Out of Print Clothing.