Scout Collection was the first company I ever encountered at a trade show that was totally committed to organic kids clothes and fair trade practices, but designed with styling that could hold its own in any chic urban boutique. This was about four years ago. To think how far the industry has come since then…well, wow.

And, really, so has Scout. Their line has evolved from quirky styling with appliques inspired by tribal designs, to increasingly wearable, beautiful styles for boys, girls and babies, that fans of brands like Tea Collection, Splendid and Kate Quinn Organics will be snapping up.

[don't miss a great giveaway after the jump!]

What hasn't changed about the
Scout Collection 2010 fall/winter line
though, is that it's still made with play in mind. Because even girls
in dresses and boys in collars want to kick it on the monkey bars.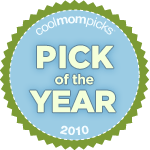 Owner Mimi Leinback sent me a few items to test drive and I just love how well they're wearing–and washing. The girls' night adventure dress
is absolutely fantastically adorable in person (truth be told, I didn't
love it from the catalog photo), and over leggings, tights or jeans,
it's going to get a whole lot of wear. The thick, comfy explore dress
(seen above) is also going to be a hit with little girls in cold weather, especially
the pretty hyacinth color. These definitely can take my 3 year-old from preschool to her gymnastics class on days she insists on wearing a dress.



For boys, I adore the discover henley and the play polo which
really are made for discovery and play. And I'm totally in love with how well the polo translates as a
preppy, collared polo baby romper, that will make an appreciated baby shower gift for under $40.




These are clothes that cost more than your average mass mall brand, and
less than name-brand designer duds. What you get in return is an amazing quality,
beefy, yummy, cuddly organic cotton that's made to last through
hand-me-downs.



You hear that, Kristen? Prepare your new baby for a cute dress in a couple of years. –Liz



Scout Collection is where you'll find a great selection of organic kids clothes and baby clothes. And don't miss their sale section for great deals on kids and baby basics.

Congratulations to Charissa C, lucky winner of the polo baby romper!