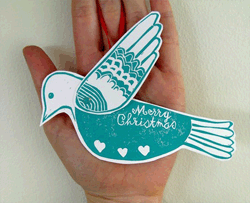 As you all know, we love Etsy. Big huge puffy heart love. And we just had such an amazing time collaborating with them on our Color-Your-Own Valentine's Day Card contest that raised over $2000 for charity that we decided get together again in time for the holidays.
And so, we're pleased to announce our Color Your Own paper holiday ornament design contest.

We're
looking for festive, seasonal paper ornaments that kids can cut, color, and hand
out to their school mates, hang on their tree, or giveaway to friends and family. We'll pick eight winning ornaments from all
the entries and whip them into a downloadable and printable PDF that
will be sold in Etsy's own shop. You can find more details here.
Best of all, 100% of the proceeds from the sales of these awesome cards (and we know, they will be awesome) will be donated to Housing Works, a healing community of people living ith and affected by HIV/AIDS whose mission is to end the dual crises of homelessness and aids through advocacy, providing lifesaving services, and working with entrepreneurial businesses. Like us.
So get out those sharpies or start playing with Illustrator — we can't wait to see what you've got! -Kristen + Liz
Visit our Color Your Own Holiday Ornament Design Contest page for more information on entry requirements, specifications, and deadlines.
[photo: Chantal/Vincent]