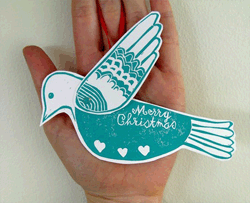 If you're an artist, a wannabe artist, or even an artist-in-training, we sure hope you'll enter our Color Your Own paper holiday ornament design contest that we're putting on with the fine folks at Etsy.
All it takes is your design for a festive, seasonal paper ornament that kids can cut, color, and hang on their tree. And tomorrow is the deadline!
You can find all the details here. (And peek at some of the awesome entries already!)
What's in it for you? The winning designs will be sold in Etsy's own shop to raise money for Housing Works, distributed at a children's charity event, plus the winners will get free ad space on the Cool Mom Picks home page for the entire month of December.
So get out those sharpies or put InDesign to work — we can't wait to see what you've got! -Kristen + Liz
Visit our Color Your Own Holiday Ornament Design Contest page for more information on entry requirements, specifications, and deadlines.
[photo: Chantal/Vincent]