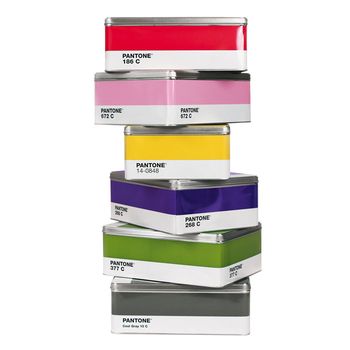 Okay, what do you get when you cross a container junkie and an ex-Art Director? Someone who is madly in love these Pantone tin storage boxes, that's what. In other words, me.


These boxes are ample in size so they're great for
storing everything from art supplies (naturally), to the masterpieces
that come home from school, or even a big batch of cookies for your
kid's art teacher. In fact, even if you left them empty (which would be a
waste) you could collect several of them and display them to show
everyone your artsy side.
Get them in 6 bright fun colors like 377-C and 14-0848. Oh fine–green and yellow. -Betsy
You can find the tin Pantone storage boxes and other amazing design items at Aplusrstore.com