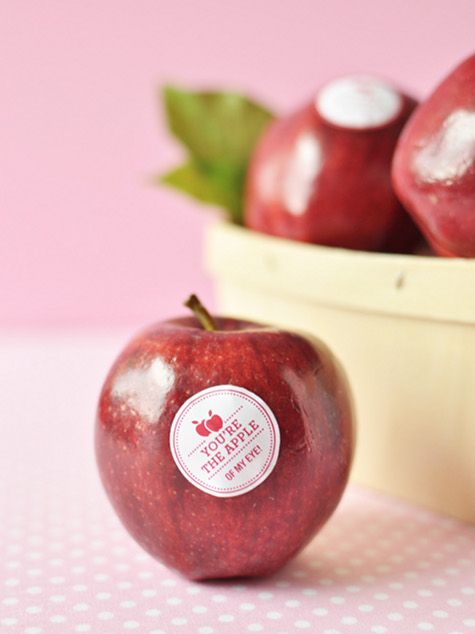 My kids are no strangers to candy, though I have to admit that the amount of sweet stuff they collect at Valentine's Day is over the top.
I may not be able to stem the tide of lollies, pixie stix and chocolate hearts that come their way, but I've found a seriously cute way to hand out something a little less artificial: Valentine's messages that go right onto a piece of 100% naturally sweet fruit. How great is this?

So simple and yet so smart, Twig & Thistles little Valentine's Fruit Stickers turn an ordinary apple or pear into a super-sweet token of adoration with punny sayings like Orange You Glad You're My Valentine and We Make the Perfect Pair.
Need another reason to love? This downloadable PDF is totally free.
I'm betting these fruity Valentines will be the talk of the classroom, and no one needs to know that they were so easy to make. Even the littlest helper can lend a hand to this project, and I am thrilled that I don't have to bribe my kids to write their names 30 times on a card. -Christina