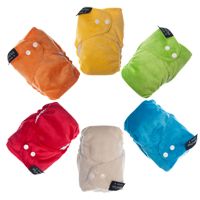 Okay, I may get a lot of flack for saying this, but when it comes to cloth diapering, I think the cute factor matters. Yes, I choose cloth for a number of less, um, superficial reasons–good for the environment, good for my babies' skin, and convenience. Seriously, I think cloth is easy.

But the bottom line (heh, I said bottom) is that you wouldn't catch me putting an ugly diaper on my baby.
And the new-to-the-US line of diapers from Itti Bitti fits the bill perfectly.



Created in 2005 by an Australian mom, these Itti Bitti cloth nappies –as they call them–have just launched in the US. And they're cute. Really cute.
Most styles in the line are made from a brightly-colored fuzzy
minkee outer that helps the diaper fit trimly without bulk. The diapers
are narrow, they use absorbent materials like bamboo, organic cotton and
suede cloth, and they're ridiculously easy to use.

Having had the opportunity to see them up close and personal,
there are several wonderful features I've noticed. The color-coded snap system lets you add extra boosters and mini boosters very simply. (To the
non-cloth-diaper-initiated, these are pieces of absorbent fabric that
help a diaper hold more liquid.) Basically the
colored snaps match-up and tell you exactly where to place them. It's
brilliant.


I also love that with the bitti d'lish snap-in-one and the one-size diaper called the bitti
tutto, boosters can be removed and outers
can be reused so that you're simply swapping out the inside parts of the
diaper.

If you've never tried cloth, these would
be a great place to start. Besides, you'll be able to tell people you have
to change the baby's nappy. How quaint is that? –Stephanie

Find cloth diapers or nappies now in the US from Itti Bitti