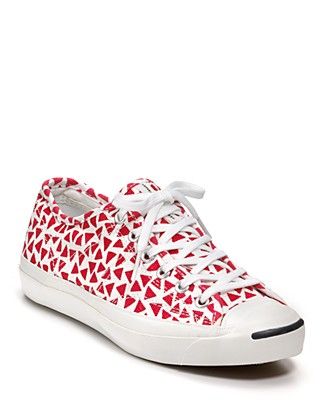 I'm a sucker for designer collaborations, so when I heard Converse was partnering with Finnish design house Marimekko for the Converse Hearts Marimekko limited edition collection, I kicked off my All-Stars and ran to the computer to check out the offerings.

I've always loved Marimekko's bold geometric prints and bright hues,
probably a residual effect from growing up sleeping on their
pillowcases.
If you're a plain white Keds type, then these are probably not
the kicks for you. But seeing as how I like to wear my flair on my feet
(probably explains my affinity for leopard-print ballet flats), I have a
major shoe crush on the Converse Hearts Marimekko line, and especialy the purple and orange pair.
At $85 a pop, these aren't down 'n dirty playground sneaks. They're
more for brunch in the city with a cute little sundress. –Melissa

Find the limited edition Converse Hearts Marimekko line at Converse.com