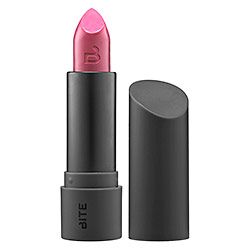 I usually prefer lip balm over lipstick, but a new line of anti-aging lip products (yes, anti-aging) is totally making me reconsider.

Bite Beauty,
which launched exclusively at Sephora last month, is the first lipstick
line to contain resveratrol, the antioxidant found in red
wine. Each lipstick has the antioxidant equivalent of five glasses of
red wine, an amount I could have put away in my pre-kids years no
problem–but now, not so much. Have you ever tried chasing a toddler
around with a hangover?
The main reason I don't normally use
lipstick is due to all the nasty chemicals (like lead!) in many brands' formulations. But all the colorants used in Bite's products are made with
food grade ingredients, making them literally good enough to eat. Bite's
other ingredients include organic shea and fruit butters, essential
oils and jojoba beads.
From ballet pink to deep aubergine, there's a hue for every preference. My personal fave is Fig, a nude rose.
The next time someone inquires about my age, I'll just tell them "the lips don't lie." –Melissa
The full range of lipsticks, lip pencils, lip balms with SPF 15 and lip butters from Bite Beauty can be found exclusively at Sephora.