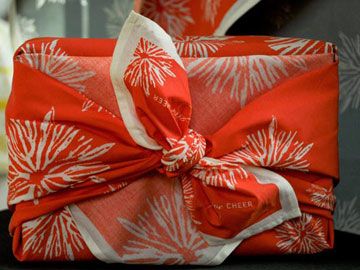 Ever since I can remember, my family has used cloth instead of paper, to wrap gifts. My mom was ahead of her time, I tell you, because now it's all the rage. And for good reason, really. Or should I say good reasons? Cloth is beautiful. And it's reusable.

The fabric gift wrap
from Chewing the Cud (okay, not a big fan of the name) take the whole
reusable gift wrap up a notch with organic cotton and gorgeous soy-based ink
prints. And each one is printed with a simple message for the
recipient. I'm quite taken with the Give Cheer one, myself. But maybe that's just because I like the color name — persimmon.
These gift wrap cloths look so pretty I can certainly understand why some people buy them as
headscarves or napkins. Imagine, then, how great it would be to wrap up a
hostess gift in one — totally like a double present.
But I think I might need to give something to my mom wrapped one of them. She's the one who started the trend, after all. –Stephanie
Find beautiful, eco-friendly fabric gift-wrap online at Chewing the Cud