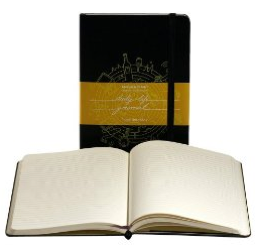 I'm a self-professed journal addict, which means I often feel as though there will be a sudden shortage and I must buy all of them just in case. (You fellow journal addicts know what I mean.) But I only have an eye for cool journals that won't completely bust my budget, which is why the new Moleskine line for Target fits the bill.

Yes, Moleskine line for Target. Crazy, right?
If you don't quite understand the infatuation with the uber popular Moleskine journals, let this connoisseur enlighten you. Their sleek design, crisp quality paper, and leather portfolio make them work well as an everyday note jotter, grocery list keeper, or even free form appointment book (though surprise, they make those too!). And the handy elastic allows you to close them up and toss them in your bag without having to worry about the pages getting bent or crumpled. Plus, I just feel fancy when I'm writing in them. That's just hard to come by when you're chasing after four kids.
And while they're still pricier than say a regular old notebook, there's just no way I can carry one of those around in my bag. What would I do with the 13 diapers and 3 sippy cups? -Kristen
You can purchase the new Moleskine line for Target in stores or online at the Target website.