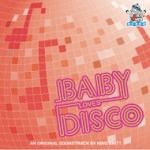 When the late-afternoon crankies hit all three of my kids, my quick-thinking remedy has always been to put on some fun, danceable music to give us just enough of a mood boost to make it to dinnertime. And with a new kid-friendly disco CD by longtime Cool Mom Picks favorite, Baby Loves Disco, a whole group of new mamas can discover the magical power of a little disco to turn those frowns upside down.

We've been to a few Baby Loves Disco live club dance parties, and my favorite thing about them is that it feels like an authentic dance club, with the addition of about 100 toddlers and bunches of balloons. On their
first soundtrack CD
, their authenticity shines through with ten original songs with a groovy 70's vibe that will has us breaking out our best moves.
The voice of Martin Luther and a little saxophone add a smooth coolness to Shake Shake Shake (Your Booty), and Ivana Santilli sings her heart out on We Are Family, which sounds better than I remember from the last wedding I attended–heh.
But unless you feel like being nudged for a snack, skip over Ice Cream whose lyrics will have your kids telling you "I scream, You scream, We all scream for Ice Cream" for the rest of the afternoon.
Any fears that this would be some Kidz-Bopified version of disco were erased as we listened to the real-deal beats and mixes by Philly's DJ and record producer
King Britt
. The lyrics are definitely family-friendly, as in the fast stop-and-go beat of
Freeze
and in songs like
Playground,
and my favorites,
Merrily
and
Smile.
Yes, disco did it again. –Christina