At the end of the day–and there really is an end of the day, when baby has no choice but to conk out, at least for a little while, anyway–all you really need is a good, sturdy crib so that your little one is safe and snug, right?
Well, maybe not. For some parents, crib aesthetics figure prominently into the equation. Maybe basic is too boring? Maybe they've got a million dollars that they need to spend before midnight to win a Japanese reality show contest? In which case, these cribs really up the ante.
At
Nurseryworks
, unique cribs are the rule, not the exception. The brand new, limited edition
Vetro crib
is made entirely of recyclable clear acrylic (which is why it's hard to
see here), with three adjustable mattress heights and a fixed side
rail. It's ridiculously pricey–$3500–but it also converts to a toddler
bed, so the Hollywood moms can justify it. Plus it'll look like your baby's sleeping on a puff of air. Heh.
If ultra-modern isn't your thing, you can go way back in time with the
Beloved Crib
at
aBaby
.
Way
back in time: with its resin roses and ornate carvings, this handmade wooden crib looks like it belongs in the parlor of an 18th century French queen–or maybe attached to the outside of a church. A mere $4462.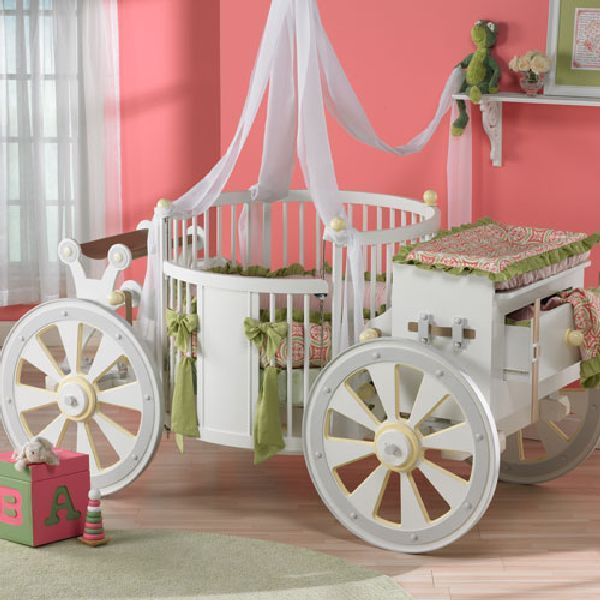 For moms who want a crib that looks like it rolled out of a Disney movie, behold the
Majestic Carriage Crib
from PoshTots. This custom-made cedar-and-birch creation includes a faux leather seat, "wheels," and an attached changing table, although I can't imagine why you'd want the diaper changes so close to a crib. Too bad the wheels don't actually move, considering this crib comes in at $19,995. For most of us, it's
all your kid would be able to drive until college.
-Lexi