When my newly minted 7-year old daughter asked me to throw her a Harry Potter birthday party with only two weeks to plan, I said "absolutely!" And then ran straight to my computer to try to figure out how the heck to pull this off for about eight little girls ranging in age from four to seven.

Well thanks to the Internet, a little creativity on my own part (pat pat), and perhaps a bit of magic, the party went off without a hitch.

If you're planning a party to celebrate the Harry Potter and the Deathly Hallows Part 2 premiere, or need a memorable theme for an upcoming birthday, here are some ways to make it happen without having to resort to a Book of Spells or use up all your gold coins.



Invitations

With only about ten days to spare and a limited budget, I decided to forgo paper invitations, though I did find a slew of cute printed Harry Potter invites (as well as printable options) on Etsy.com. Instead, I used the truly awesome Paperless Post service; their gorgeous Castle invitations were the perfect way to conjure up Hogwarts– and free!

Costumes


While we didn't ask our guests to dress up, my daughter insisted on
being Hermoine Granger. So I purchased a Harry Potter tie at Amazon, added a button-down shirt and black shorts at Target, then topped it off with an
official Harry Potter costume cloak.

As for me, I was a makeshift Professor
McGonagall, wearing my old Graduate School graduation robe. I always knew
it would come in handy!

To make sure our party guests felt included, I offered each one Harry Potter glasses, purchased for a dime each at our local party store. Cute, huh?

Decorations & Food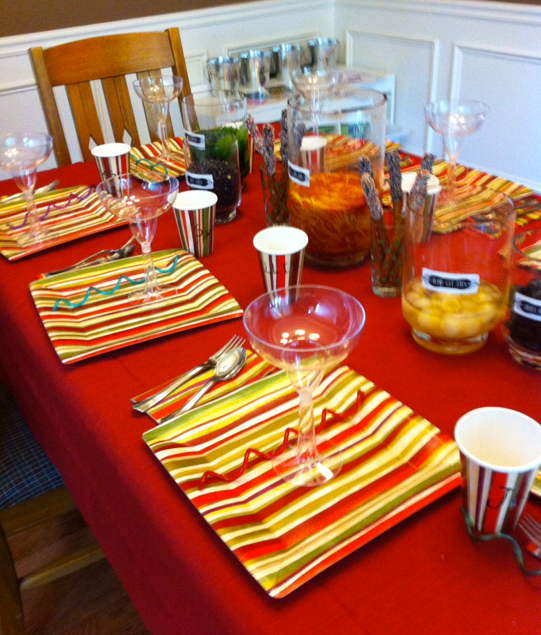 After scouring the Internet for ideas, I found an extremely handy Harry Potter party idea post from The Hostess with the Mostess blog, which inspired everything from the decorations to a few of the games we played. I used a red tablecloth and striped place settings (on sale at our local party store), and then made various "Potions and Spells" displayed in jars as the centerpieces–things like spaghetti bloodworms and black bean bat eyes.

So that everything wouldn't be icky, I also made chocolate-dipped pretzel rods covered in silver sprinkles that we called magic wands using this super simple recipe. At the end of the party, those decorations became edible, obviously.

To top things off, I hung this adorable handmade Gryffindor banner over the table which now drapes across the ceiling of my daughter's room.

For food, I opted for simple Muggle fare, like homemade macaroni & cheese, veggies and dip, and a fruit salad, served in plastic margarita glasses that I scored on clearance at my supermarket. And instead of a cake, we ordered cupcakes, wrapped in these cute printable Harry Potter cupcake wrappers.

Party Games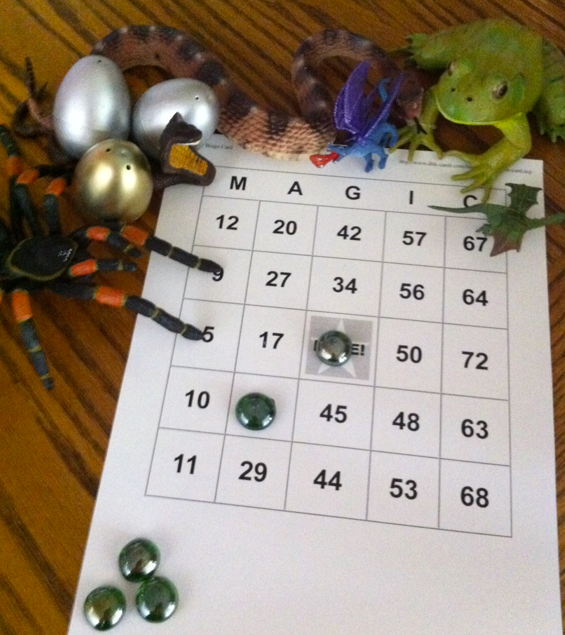 To keep things relatively tame (no spooky rooms or magic tricks), we played Magic Bingo with cards created online using a bingo card generator and "magic" stones. We also drummed up a round of pin the glasses on Harry Potter using an old Harry Potter movie poster. Being rather unartistic, I had my husband draw the glasses. Worked fabulously!

The highlight of the party though was the Magical Creature Hunt, with the girls searching our yard for dragons big and small, snakes, spiders, bullfrogs, magic jewels, and dragon eggs, which I made by spray painting plastic Easter eggs in gold and silver paint. I found all the creatures on the shelves of Michael's Craft Store.


Goody Bags (or Buckets)


As our guests arrived, they were invited to use stickers to decorate metal buckets full of magic stones for the Bingo game and their Harry Potter glasses. They also used these buckets to collect their magical creatures from the scavenger hunt, and their spoils became the goodies they were able to take home.

The game winners were awarded prizes – cute owl hair ties and owl bobby pins, in honor of Hedwig, of course, that I purchased from minggus and moob on Etsy.

Was it a bit of work? Sure. But it wasn't expensive and I think I can safely say that a magical time was had by all. –Kristen

You can find more ideas for throwing your own Harry Potter party at iVillage.com. Cool Mom Picks is an Amazon affiliate.