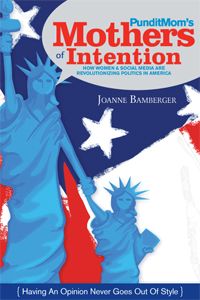 My interest in politics has ebbed and flowed over the years, but since I've become a mother, public policy has taken on a whole new personal relevance for me. I've got three kiddos whose futures will be affected by the decisions of political leaders, from our local school board all the way up to the federal government. That's a pretty sobering realization.
But it's an exciting one too, and that's what prominent political blogger and mom Joanne Bamberger showcases in her new book, Mothers of Intention.

Featuring an array of powerful essays by bloggers — including our own Kristen Chase, Liz Gumbinner, Kari Dahlen, and me — along with Joanne's own commentary, Mothers of Intention explores a multitude of ways in which public policy intersects with motherhood.
While Joanne herself is definitely a liberal, she took great care to include a wide variety of perspectives among the contributors — there are essays that both cheer and lambast Barack Obama and Sara Palin here.
The contributors are definitely not afraid to get personal; some pieces are heartbreaking, like Cecily Kellogg's terrifying story of the loss of her twins. Some give hope, like Sarah Braesch's description of her preschool-aged daughter claiming she could tell Obama and McCain apart by the color of their hair. Then some essays are just plain funny, like Tanis Miller's wonderful tale of voting with her children in tow.
But what I really love about Mothers of Intention is that it's so positive and energizing, no matter whether you're a C-SPAN junkie or barely get a second to skim the headlines over coffee. It's a great reminder that while mothers differ on specific issues, our common concern for our kids' futures unites us. Which is a pretty awesome feeling — one I plan to hold onto as we hop on board the 2012 election year roller coaster. -Julie