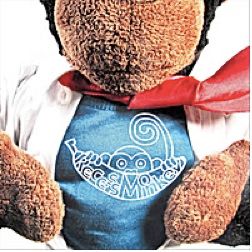 As much as I love listening to the awesome music that comes my way as part of being CMP's primary kids' music reviewer, I find picking my favorites to be one of the harder tasks I have to do. It's like deciding if I like salted caramel better than mocha fudge better than crunchy toffee: You want me to choose?
But choose I've done for the 2011 Fids and Kamily Awards along with other journalists, producers, bloggers and radio show hosts. The results are in!

Many congratulations to Recess Monkey for their most-awesome FLYING! which captures the top spot for 2011. And big props to every band who was nominated for helping to make kids music something us parents can enjoy too.
To see all of the winners this year, please visit Fids and Kamily and make a note to stuff some stockings with these great releases this holiday—you won't be disappointed.
And if you're curious how our own ballot looked, here you go.
Cool Mom Picks' Top Kids' Albums of 2011
1 Little Nut Tree by Dan Zanes

2 Practically Ridiculous
by The Jimmies
3 Mind Of My Own by Frances England

4 FLYING! by Recess Monkey
5 Love Me For Who I Am by Brady Rymer

6 Sing Along! by Caspar Babypants

7 Let's Go Play! by Charlie Hope

8 Infinity Sock
by Gustafer Yellowgold
9 Original Friend
by Lunch Money
10 self titled by Cat and a Bird
We can't recommend these CD's highly enough if you are
looking for some new music for your collection. Happy listening! –Christina
Stop by Fids and Kamily for the winners and honorable mentions in their Best Kids and Family Music of 2011 Awards.