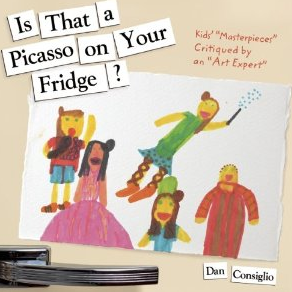 Dan Consiglio is the amazingly talented and funny author of the blog What My Kids' Art Says. It's a great site because Dan isn't afraid to call it like it is. He looks at children's artwork with the lens of an erudite art critic, not a "my child is amazing and therefore everything associated with her must be" parent.
The results are absolutely hysterical, and now they are now in a clever paperback that will have you in stitches.

Is That a Picasso on Your Fridge?
is like taking an art history class on a roller coaster. You know that
you are going to learn something, but there are so many dips and curves it never gets boring.
In the book, Dan presents the creation of the "artist" on the left side, and his critique on the
right. Although you might want to look at the kids' pictures and come to your own
conclusions–before Dan tears the niceness to pieces.
Okay, it's not
always that bad. But Dan does make the art experience awesomely unconventional. He references the greats like Picasso and Pollack, but also
describes new art movements that you may be less familiar with. "Day
Care Expressionism" is one of my favorites. Particularly, "Mad at Mommy"
which is a paint on parchment paper that cannot go unnoticed.You will not be able to look at your kid's artwork
the same. -Eva