When it comes to giving Valentines gifts, I'll refrain from saying that my kids are "sweet enough already." But, let's face it: they'll be bombarded with candy hearts, lollipops and other sweets on the 14th. My plan is to find some non-sweet treats they'll love for a lot longer than that pink lollipop.
Here are some of my favorite choices for kids of all ages. –Christina

The
Woodland Love wooden blocks
from Tiny Giraffe Shop come packaged in a little drawstring bag ready to give to your Valentine. The illustrations are so sweet, they'd be perfect on top of the dresser but later are ready to be mixed in with all of the other blocks at playtime. ($15, currently out of stock)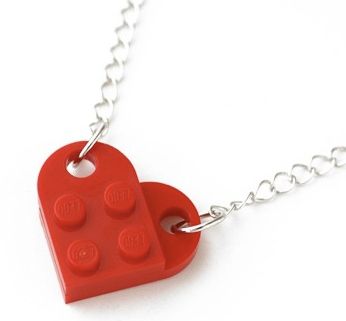 My LEGO-loving tween would call this
clever heart necklace by SapphireSquares
a super sweet Valentine's gift. No need to fuss with a tiny clasp either, just unsnap the two LEGO bricks to put the necklace on or off. ($14 at Shana Logic)
If a visit from the tooth fairy is in future, this little tinplate
heart-shaped tooth box
is just the right size for a tiny tooth. It comes in four colors too, so even those who aren't so fond of pink can have their very own. ($3.50 at Romp)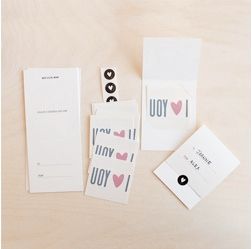 My kids would cover themselves in Tatt.ly's adorable– and temporary–
Valentine's tattoos
. And just like the chocolate that will be smeared on their hands and face, these tattoos come off easily too. (8-card set for $15)
Put your love on display as they march off to school with this colorful
Organic Lunch Bag from Fluf.
The BPA-free, washable lining means they'll never have to say they're sorry for spilling applesauce all over the inside. ($18.49 at Erie Drive)
And inside their lunch bags, tuck in your own sweet fortune with the adorable
felt fortune cookies
from Curly Birds. Order your own, or just follow the tutorial and DIY if you're crafty. You can use the little slips of paper inside to scribe your own note, like "I see ice cream for dinner" and see how fast they run home from the bus stop. ($8 for three, currently out of stock; or free tutorial on site.)