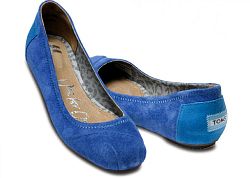 My TOMS wedges might just be my favorite pair of high-heeled spring and summer shoes, but even as comfy as they are, they're still high for chasing after four kids. And while I've yet to feel hip enough to pull off the Classic styles, the new TOMS ballet flats might just be the shoe for me.

Available in a slew of different patterns and fabrics, like suede,
burlap, even leather, the TOMS ballet flats are not only on trend this year, they're the perfect combination
of fashion and function for me. They've got a a sleek square-round toe with a gather
detail, and they're super versatile paired with matchstick ankle jeans for dayor a flowy knee-length skirt for night. But if you're looking for something more casual, I'd go with the linen or chambray styles.
Granted, you still have to get over the big TOMS label on the heel, but considering
their amazing One-for-One cause, I'm willing to suck it up. Besides,
it's sort of become a hipster icon these days, which my
thirty-something-self kind of likes. -Kristen
You can purchase the new TOMS ballet flats on their site. And for every pair purchased, one pair is donated to a child in need.