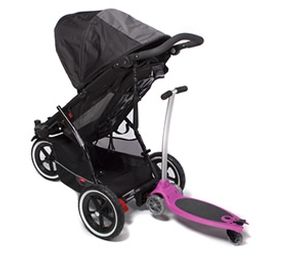 Some deals are just too good to keep to yourself. Especially when it involves a stroller, since great buggies can be so pricey, but are so integral for every family with young ones. Two of Cool Mom Picks' fave stroller brands, Phil & Teds and Mountain Buggy, will be offering their strollers on the chic flash sale site Gilt Kids tomorrow with an awesome accessory thrown in.

It's already sweet to get a Mountain Buggy Urban Jungle for $100 off the sticker price or a Phil & Teds Explorer
for $130 off the price–but with either one, Gilt is also throwing in
one of the coolest stroller accessories we've ever seen–a free Mountain Buggy Freerider buggy board, which is compatible with either.
If you don't know what the Freerider is, then imagine a scooter and
stroller board rolled into one extra cool piece of kid gear that easily
attaches and detaches to the stroller. Let's say it makes even a trip to
the grocery store an excellent adventure for your older child.
The complimentary Freerider is also available on Phil & Teds' own site
with purchase of an Explorer stroller through the end of March. Though
hey, the deal is a little sweeter on Gilt Kids if you happen to have
some of those lovely Gilt referral credits sitting in your account. -Melissa
Log onto Gilt Kids
tomorrow, March 5 (use this link if you're not already a member) when they kick-off of the sale. The Mountain Buggy
Urban Jungle stroller will be $499 (original is $599) and the Phil &
Teds Explorer is also going for $499 (original is $629.99) PLUS get the
free Freerider buggy board and connector valued at $130
If you miss the sale, the Phil & Teds deal is available on their own site through March 31.