It's crushing to have to write that cancer affects all of us in some way these days. That includes the parenting blog community, who recently lost Susan Niebur recently, an amazing scientist, mother, and friend to everyone at Cool Mom Picks. We were constantly inspired by her outspoken advocacy for organizations that fund research and treatment (in her words: "Aren't we aware of cancer already?") So once again, we're proud to continue our campaign with our sponsor The American Cancer Society to share a few new ways you help, that you may not not about.
RELAY FOR LIFE
This wonderful nationwide event celebrates survivors and honors those we've lost to cancer. More than 5,000 events (and another 850 in other countries) have gathered overnight at schools, parks and jogging trails, to take turns running laps, and raising money for cancer research. In fact, more than $380 million last year. That's a lot of money for a lot of scientists and researchers.
The cool part: you can join a relay near you or start your own.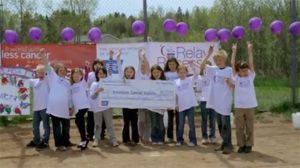 RELAY RECESS
This event is specifically for students and school
faculty to celebrate those who have battled cancer in their own
communities. Events differ from school to school, but they all involve education, physical activity, and of course, fundraising.
You can be really creative, and make the event however you'd like it–walking laps, creating a Superhero fitness program, or a grade-wide (or school-wide!) classroom Olympics. What's especially smart is it gets kids learning about healthy living and cancer prevention early, and it's more fun than listening to a lecture in a classroom.
There are lots of clever fundraising ideas on the site – we love the recycling drive, or paying $1 each to wear a hat to school! And it's especially cool when kids come up with these ideas themselves.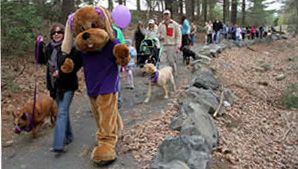 BARK FOR LIFE
Because dogs can serve as amazing caregivers, this event is designed to recognize our unheralded four-legged companions, from service dogs to rescue dogs to diagnostic dogs (cool).
We love that this is such a family-friendly option. Families and their dogs come together for a one-mile walk (even our four year-olds can do that!), doggie games, and even dress-up contests. There were more than 260 Bark For Life events last year raising a half-million dollars (!) and we hope there will be more.
We really hope you'll consider organizing one of these events yourself–or just donating to one if you can't participate. It's a great way to connect with your community around a truly wonderful cause.
The proceeds from this sponsored post will be donated back to the
American Cancer Society in honor of our good friend and cancer warrior Susan Niebur who passed away in February. We're keeping the fight going, Susan!