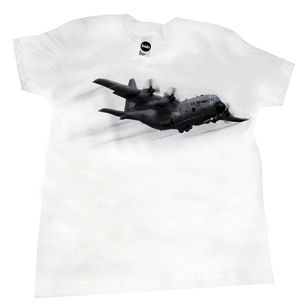 With a husband in the Air Force Reserves, you can bet that Memorial Day means more to us than the unofficial start of summer and a long lazy weekend. And while in years past I deck the kids out in red, white, and blue, this year I've got the coolest t-shirts that pay a little homage to exactly what my husband does when he goes off to work.

[don't miss a sweet giveaway after the jump!]


The
new military kids' t-shirts
from Cool Mom Picks favorite and dad-run business
Shirts That Go
are so cool that my husband brought them into work to show all his squadron. As a C-130 pilot, he's probably as excited as my son is to be able to see his airframe on his kids And if you don't have a heavy driver in your household, you'll find other military vehicles as well, from Army tankers and fighter jets, to Coast Guard rescue boats and planes.
Even if you're not a military family like us, it's a wonderful way to show your support for our troops any day of the week. Or just to feed your kids' addiction to transportation vehicles. I can't be the only one with those, right? -Kristen
Congratulations to Michael M. and Krystina M! They each won a shirt from Shirts That Go. .