Ever look down from an airplane at the panorama below and consider how very much the ground looks like a crazy quilt? Us, too.
That's just one reason we're smitten with how these stylish quilts that gorgeous capture the cities and places we love.
Haptic Lab
designs handmade luxury quilts that represent someone's unique place in the world through the sense of touch. Each quilt is made of handstitched 100% natural cotton in a cooperative effort between designers in Brooklyn and certified fair trade labor partners in India. White quilts like the one above are so subtle–at first they look like an ordinary quilt, but on closer glance you realize it's a map of NY, San Francisco, New Orleans, Paris or London.
Each quilt is different. If you want a bolder take, the
Great Lakes Quilt
above is Haptic Lab's "love letter to the Upper Midwest." The lakes are hand-appliqued poly-silk, and the details are picked out in contrasting thread. Each quilt is made in a limited run but if you have one you'd like to see, fill out the
survey for which city to cover next.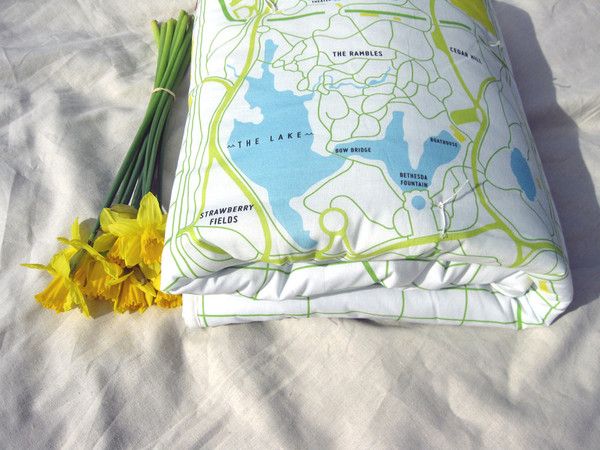 In addition to the big, white quilts (pictured with the cat) and the more colorful area quilts like the Great Lakes, Haptic Lab also does some lovely
Baby Soft Quilts
in 100% cotton. Custom-printed and hand-knotted, they can also be customized with baby's name, birthday, and up to three different locations for a beautiful keepsake– and a fantastically thick playmat. You can also select from three different colors for the backing. Pair one with
these hip city cards
for a baby shower gift that will forever mark baby's entrance to the world~
Delilah