My kids are super jealous of their little classmates who have Crocs covered in Jibbitz. Well, now my sneakered offspring can have a little fun decorating their own shoes, thanks to these cool doodads that we discovered at one of our fave shops, Spoon Sisters.

Meet Addatoos, temporary tattoos for rubber-tipped shoes. Yes, they've now thought of everything! Of course, we think Converse Chuck Taylors are perma-cool on their very own, but these are a nice option for letting your kiddos get creative with their footwear.
My girls would freak over the "
Bows for Your Toes
," though the "Toe Jam" styles might actually be more up their music-loving alley.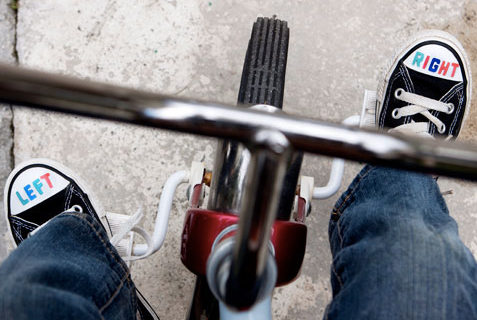 And the "Left/Right" ones from the "
A-B-See My Feet
" might just save me from the daily challenge of making sure my son squeezes his toes into the correct shoes.
Don't worry, mamas. Included with eight designs in each pack is a handy little wipe that removes Addatoos before Grandma and Grandpa come to visit. So snatch them up for an awesome gift (or stocking stuffer)! Cool kicks not included. -Kristen