I've always loved early fall for the chance to go apple picking (and the subsequent homemade apple treats!) But long after the apples are gone from the trees, there will be plenty of ways to celebrate apple season with some adorable graphic clothing that's ripe for the picking. –Christina

Apples, apples, everywhere on this
Smafolk purple apple-print dress
with bright green trim. You'll be importing these apples from the UK, but this versatile dress will be fashion-fresh for a good long time.
Elizabeth Horton's nostalgic graphic tee
is pure
awwww
for those of us with growing-up-fast boys. The chocolate-brown tee will also be forgiving when your little guy decides to roll in every leaf pile he finds from home to the bus stop.
This
Smafolk long-sleeve t-shirt
features the company's iconic apple graphic, but this time it's front and center. And as someone who throws everything in the dryer, I appreciate that this cotton shirt is also woven with a natural fiber that helps resist shrinkage. Would make a great shirt for either boys or girls.
The days are getting chillier, but before winter coats are needed, grab this bright
apple-print vest from Old Navy
for your toddler. The bright colors are super sweet, and the price is pretty great too!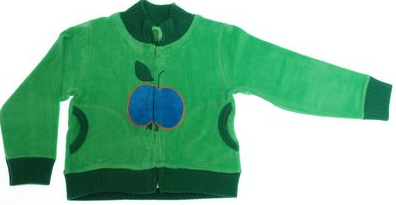 With
DUNS Sweden green terry sweatshirt
, your grade schooler will want to zip up before they head outside to play: when zipped, the apple halves come together! I love the colors, and the warm terry will feel nice as we transition to
brrrrr
.
Worn over a long-sleeved shirt and with some cable-knit tights,
JCasa SHOP's one-of-a-kind apple-print jumper
would look so sweet this fall on one lucky toddler. I love how the vintage fabric on top pairs with the bold Japanese print for a look that's more mod than cutesy. Sized for a two-year-old, it's meant to be worn as a tunic when little legs grow longer, which helps justify the higher price tag. I'm sold.
You'll find loads more clothing for kids in our archives!