Whether you love your mother-in-law or you wonder where the heck your husband came from, I've always found MILs to be the toughest to shop for when it comes to the perfect holiday gift. So instead of leaving it up to my husband (which would probably mean a really scary reindeer sweater), I've rounded up a bunch of cool mother-in-law gifts that are sure to make even the most challenging other-mother happy.
FOR THE MOTHER-IN-LAW WHO'S A WONDERFUL GRANDMOTHER

If you always catch her showing off photos of her gorgeous grandchildren to random strangers, then I'm pretty sure these sentimental gift ideas will make her tear up. In a good way.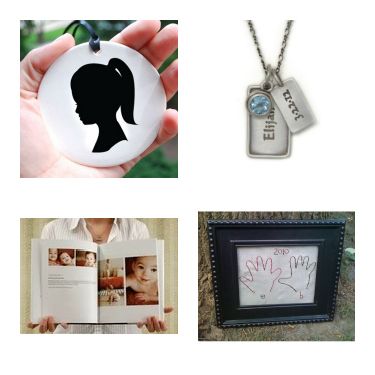 1. Le Paper Studio silhouette ornaments 2. Heart and Stone keepsake necklace 3. Blurb Photo Book 4. Tiny Sprouts handprints
FOR THE STYLISH MOTHER-IN-LAW
She might be a grandmom, but that hasn't affected her style one bit. Here's a little bling to add to her collection.
1. Custom earrings from Sonya Renee 2. Alexis Bittar woven cuff 3. k20 by Karen Ko cocktail ring 4. Handmade gemstone necklace
FOR THE DOMESTIC GODDESS MOTHER-IN-LAW
If she's most at home with a wooden spoon in her hand and something that smells yummy in the oven, she'll surely find a special place for any of these gifts in her kitchen.

1. Studio Patro tea towel and apron set 2. Handmade serving dish 3. Le Creuset dutch oven 4. Openwork Ribbon Cake plate
FOR THE CHARITABLE MOTHER-IN-LAW
Because she always thinks of others before herself, these beautiful gifts are lovely as the causes they support.

1. FashionABLE scarves 2. Leakey collection bracelets 3. Jana Feifer custom letter tote 4. 31 Bits necklace
For more amazing holiday gifts, have you checked our Holiday Gift Guide? We've got over 150 ideas!