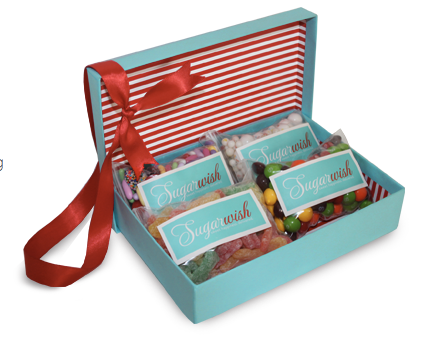 I love candy. But being a bit of a candy connoisseur, I'm very particular about my sugar. Personally, I like a combination of sweet and sour, with just the right amount of gummy. But it's hard to know what will delight someone's particular sweet tooth, you know?
That's why Sugar Wish is such a cool way to give sweets to your favorite sweeties.
When you gift a Sugar Wish, you choose a recipient and a box size. You write a sweet message (sorry, I couldn't help myself) and then, boom, your friend's inbox lights up. He then gets to choose his favorite four candies from close to 100 yummy options, and it comes delivered in that gorgeous aqua and red box a couple of days later.
I do wish there were a few more sophisticated options besides what you find in boutique candy-by-the-pound stores, but I also understand that melted truffles don't quite make the gift that fresh licorice, mini jawbreakers, gummies, and caramel squares do. (Also, root beer barrels! Remember those?)
The best part is that you can give a last-minute gift to those people on your list who are so hard to shop for and support a mom-run business all at the same time. Now that's my kind of sweet. –Eva
Go to Sugar Wish for a great twist on a candy gift basket, and follow the super easy directions. There is even a way to gift to yourself if you so desire. Just sayin'…