If your family loves takeout, then your posse is going to love Steamy Kitchen's Healthy Asian Favorites: 100 Recipes That Are Fast, Fresh, and Simple Enough for Tonight's Supper, the new cookbook by one of our favorite food bloggers and cookbook authors, Jaden Hair.
(Also known around these parts as the mad genius behind this amazing Thai Iced Coffee recipe.)
Jaden's new cookbook is packed full of vibrant, laid-back recipes that give your favorite Asian dishes a seriously healthy makeover. The best part: these recipes are just as convenient as takeout. In the same time that it takes to get your delivery, you can have a much healthier and tastier version on your table, with hardly any fuss.
Steamy Kitchen's Healthy Asian Favorites is the second cookbook from the powerhouse behind Steamy Kitchen, a CMP favorite and long-time personal go-to resource for quick recipes inspired by the flavors of China, Japan, Korea, Vietnam, and more.
All of Jaden's recipes are approachable–she's the master at replicating authentic Asian flavor with easy-to-find ingredients–but the ones in this book are all about doing away with the goopy sauces, oily stir-fries and high-calorie counts that we've come to expect from much of Asian restaurant cooking.
The same way that I have a hard time choosing what to order from my favorite Chinese takeout spot, I had a hard time deciding what to make first from this book. I want to cook nearly everything in it! I'm especially excited about the recipes in the Vegetables, Tofu & Eggs chapter. (Helloooo, steamed asparagus with miso-ginger butter!) There's also a super fun chapter on recipes designed for sharing. But instead of starting with a dish that I knew I'd love, I thought I'd give this book a run for the money.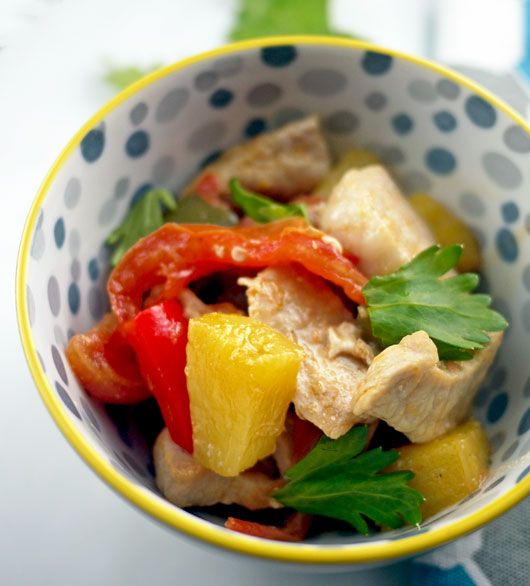 The first thing I tested was Jaden's Sweet and Sour Pork, a dish that is almost always unforgivably sweet and gloppy when ordered from restaurants. I wondered if Jaden's recipe could turn out a healthy and tasty version of the classic Chinese takeout dish. Guess what? It did.
Sweetened with orange juice and just a little honey, tangy from ketchup and vinegar, the recipe served up a light, fresh, and balanced meal in a flash. Total yum.
And with that, this new collection of 100 recipes earned its place in my kitchen cookbook collection. If you and your family love Asian food, it should have a place in yours, too. –Stacie
Grab your copy of Jaden Hair's Steamy Kitchen's Healthy Asian Favorites: 100 Recipes That are Fast, Fresh, and Simple Enough for Tonight's Supper from our Amazon affiliate or from your local independent bookstore.