Nothing is sweeter than a Father's Day gift that really truly comes from the kids. Whether they make a card (still our all-time favorite gift), get crafty, or pick out something a little fancier, here are some fun Father's Day gift ideas "from the kids." Even if they're not the ones paying. Yet.
Also: Don't miss our huge Father's Day Gift Guide Giveaway! Details below.
Father's Day photo from the kids (above)
It's so easy to have them hold big letters from a craft store, or just their own letters hand-colored onto construction paper. (Free tutorial at No Biggie)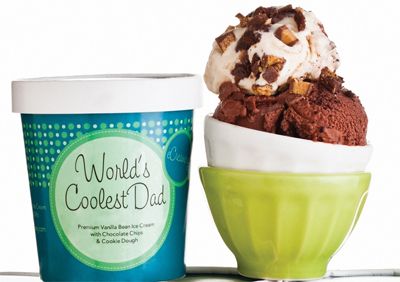 Custom Father's Day ice cream
We've been longtime fans of the delicious ice creams from eCreamery, especially the flavors in the Father's Day collection. (Sea Salt Caramel with Chocolate Covered Pretzels? ZOMG.) Plus the labels have names like World's Coolest Dad and Dad's Breakfast of Champions. Cheap? No way. Remembered long after the carton is empty? You bet. ($49.99 per half-gallon, $89.99 per gallon, at eCreamery)
Color an illustration of dad from a photo
Upload a pic of dad and print out coloring pages that the kids can turn into cards and crafts. Or they can just frame them on their own–once they've gone to town with their 64-pack of Crayolas, of course.  (Free with code on Crayola box; photo via Andy Hinds)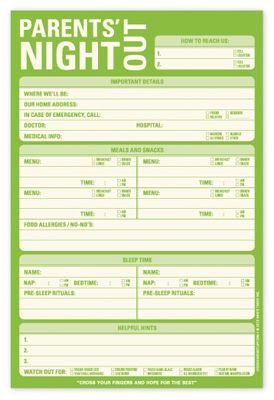 Parents' Night Out Pad
Aw, how sweet of the baby to give you both a night out, and maybe even a sitter for the night. The baby knows you so well! ($8 at Give Simple)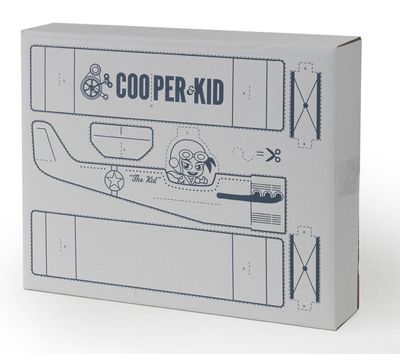 Cooper & Kid Activity Box for Dad
There's hardly a kid who wouldn't like more time with his dad or grandpa, and this kit makes it super easy. Ideally it will become a subscription series, but for now the "How Things Fly" kit is an awesome place to start, with well-curated toys and activities for building, flying, playing, cooking dinner together, and even bedtime story-reading. And the box itself becomes a toy too. ($65, Cooper & Kid)
Dad's Book of Awesome Projects
We're in love with this book by Mike Adamick, which lets dads get crafty with the kids too. You can even package it with some of the supplies needed, so he can get going with the kids as soon as he cracks it open. ($12.63, Amazon)
——–
EXTRA-COOL: WIN IT! We're so excited to give away a Father's Day gift pack valued at more than $550!
1. Jack Spade Canvas Messenger Bag 2. MOUTH World's Greatest Dad Gourmet Basket 3. Complete Game of Thrones Season 1 Blu-Ray Collection 4. Daddy Keychain by Lisa Leonard 5. Dove Men+Care Gift Pack for skin, face, body and hair  6.Dad's Book of Awesome Projects  7. Native Union Switch Bluetooth Speaker
For more great gift ideas for dads of all kinds, check out these posts from our 2013 Father's Day Gift Guide series:
Father's Day gifts for stylish dads
The coolest personalized Father's Day gifts
Father's Day gifts for new dads
Great homemade Father's Day gift ideas