Trending right now. As in this second.
You are listening to our podcast, right?
No Results Found
The page you requested could not be found. Try refining your search, or use the navigation above to locate the post.
No Results Found
The page you requested could not be found. Try refining your search, or use the navigation above to locate the post.
No Results Found
The page you requested could not be found. Try refining your search, or use the navigation above to locate the post.
So much coolness. Where to start…
I truly love spending autumn weekends doing fall crafts with my nieces, and now that we're done with pumpkins and ghosts, I'm looking into cool craft projects for Thanksgiving. I searched around and found some favorites -- corn on the cob, the Mayflower, and of...
We here at Cool Mom Picks are all about being kind to the environment. But trying to live that way can be a challenge, particularly in you live in a not-so-green state like I do.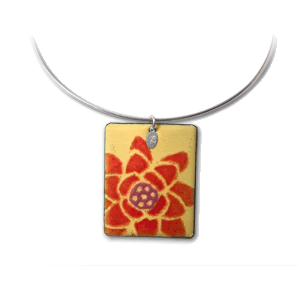 I have to admit that I haven't had much success with reversible stuff. I mean, sure, it's great in theory. Butit always seems like one side is way better than the other, and that just sort of defeats the purpose, doesn't it?
Trade my gorgeous hardwood floors for wall-to-wall? No chance. Fortunately I've been alerted to crawling pants. No, I'm not kidding. Crawling pants. Pants. Just for crawling. These inventive and thoughtfully constructed toddler trousers from mom Tammany Atkinson's...
As if I don't have a hard enough time falling asleep already, I am constantly dealing with my night-owl neighbors whose bright kitchen light shines right into our bedroom window.Tying to avoid any neighborly conflicts, I'm thinking of scoring an eye pillow from...
Plastic, plastic everywhere. Argh, I'm going out of my head with all the neon plastic around our house! Er, what I mean is…anything for the kid.
Feeling a little unhip these days? Having a hard time understanding "the kids" on MTV? Don't worry. We've all been there. Weknow how those Gymboree classes, playgroups, and never-ending Barney episodes can suck the cool right out of you. Sodon't despair — there's...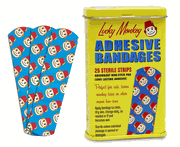 For eons, adhesive bandages came in that weird pseudo-skin tone color. Then someone got smart and decided they would make bandages with graphics on them. Yay!
Do you really need to be eating that can of barbeque pringles? Or that bag of red hot cheetos? I'm thinking that perhaps there's no time like the present (cough-bathingsuitseason-cough) to put the junk food away and send it to someone who could actually use it - like...
In many ways, technology has made raising children a whole lot easier. Just look at the Mr. Clean Magic Eraser! But one of the greatest inventions for moms and dads, in our opinion, is the podcast.
For any of us who ever rocked out to girl bands like the Go-Gos or the Bangles, the all-mom band Housewives on Prozac will remind us even though we've traded in our legwarmers and boomboxes for maternity jeans and minivans, we can still rock.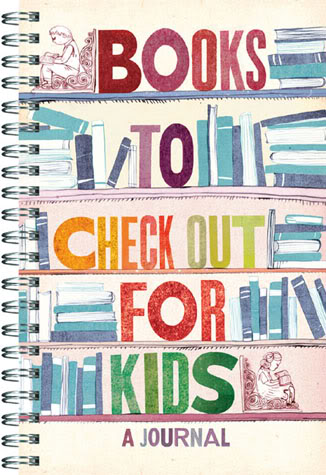 Surely every parent agrees that whatever it is that gets our kids into reading, we're all for it. (Okay, maybe not the SI swimsuit issue. But pretty much anything else.) Which is why we just love Books to Check Out for Kids, a journal from the always cool Imagineering Company.
I always think I'm taking the most beautiful, professional, ready-to-be-blown up to 22×30 photos–only to process the film and realize just how mistaken I was. Not Alicia Bock. A mother of two, ecclectic gardener, and award-winning photographer who "records the passage of time through fading flowers and weathered landscapes."
We're just getting to the point that my daughter might actually have enough hair for a clip. However, I have been forced to put the kibosh on my victory dance due to the poor offerings of sassy hair clips that work on a head with barely any hair. Seriously, if you are not into satin bows or glittery claw clips, you are way out of luck.
New moms of twins need everything. EVERYTHING. Times two. But that doesn't mean you want to be the practical friend who shows up at the shower with two packs of diapers, two boxes of wipes, and two snot-sucking nasal thingies. At least not without throwing in...
Cool Mom Picks has yet to determine our version of five stars or two thumbs up but whatever it is, VedaBABY has earned it in spades.
While I'm a huge fan of origami art, I never know exactly what to do with them. I'm thinking a row ofswans on my mantle may not be the greatest design decision I ever made. But, now I can actually wear my washi (the beautiful paper used to create origami) in beautifully handcrafted pendants by Blend Creations.
In honor of today's Cinquo de Mayo festivities, we scoured the web for a pop culture pinata or a designer sombrero. Just some little knick-knack or doodad, that we might pay homage to one of the most underrated holidays outside your local Chili's.
I have a tough time with the word "fat," mainly because since having a child, it's how I feel on most days. And quite frankly, I prefer it be used to refer to babies, the singing lady, and these new handmade stuffed animals I found by Jen at The Sweetest Pea.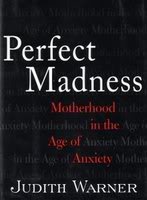 I just finished reading Judith Warner's Perfect Madness: Motherhood in the Age of Anxiety. Considering I haven't read a book since I became a mother, that in itself should tell you a lot.