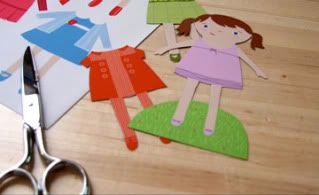 As if the various handmade goodies at the Wee Wonderfuls Shop weren't wonderful enough, now owner and Hillary Lang has decided to open a new section of free crafting downloads, all available 100% free of charge (with a very polite request that you not sell anything made from them).
The printable paper dolls will buy you an hour or two of blissed-out quiet playtime. The bear and bunny doll patterns could be tackled in time to send the kids off to camp with some new stuffed friends. Or if you're a fledgling sewer who's been itching to make your own pointy kitty or wee bunny softie, you're in luck.
If you're a little handy with a scissors and thread, chances are you'll find something worth way more than the price of free. Thanks, Hillary! -Mir
Check out all the free craft pattern downloads available at Wee Wonderfuls.