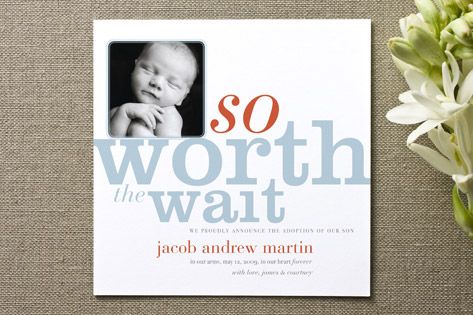 Do you know of a company that does awesome adoption announcements – hold the bunnies? -Tanis
Congrats on your adoption, Tanis! We know how hard it can be to find cool announcements, let alone ones that don't rely on birth dates and times in the design. But thankfully, many companies are stepping it up with modern announcements that are suitable for adoptive parents too.


We're big fans of Minted cards, so I'm not surprised that they've got some lovely adoption announcements. My fave is the sleek Worth the Wait adoption announcement which is printed on eco-friendly premium 100% recycled paper, and has a wonderful message to announce any child, regardless of their age.
You'll find a few nice options at Paper Culture, including the Asian-inspired Modern Tree Branch, which could be lovely for an Asian adoption and includes space for three pictures of your new baby or child.
For a super affordable option, check out the great modern designs from the etsy shop inkObsession. For just $15 she'll design a card just for you, send you the JPG, and you can print out your own announcements.
And if you find a design you love that's not specifically marked as an
"adoption announcement," don't let that stop you. Both of these
companies customize everything on the cards, so chances are you can
make a different card work. –Kristen
Get 20% off your baby announcements order with "SUMMER09" at our partner Minted when you order through this link.
Looking for other great cards and announcements? Check our archives, or search for baby announcements.