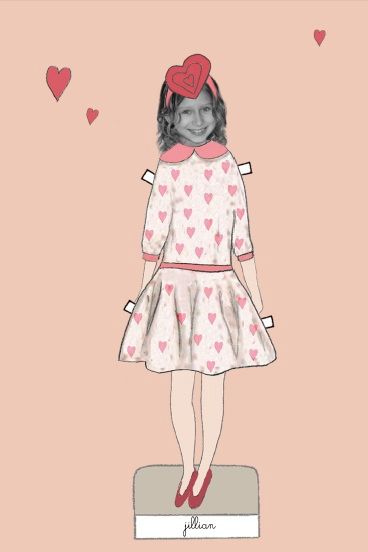 I adore paper dolls, probably because I used to hand-draw them for hours as a child, but have to admit that the lovely vintage style paper dolls from French-website and CMP favorite TinyUs is way better than anything I drew. Especially when they can turn your very own child into a doll.

Rather than charging you, say, $10 for the chance to turn your sweetheart into a paper doll, TinyUs just asks you to make a donation, in any amount, to Présence, a school for children with developmental disabilities in the south of France. I felt like I was giving a little Valentine to others by making my donation. In turn, I received one of the cutest Valentines I've ever seen.
If she could turn a sweaty summer head shot of my daughter into that cuteness you see at the top of this post, I promise she can work with almost anything. And she works fast too, meaning you'll have your printable PDF in plenty of time for Tuesday's classroom party.
For kids in the classroom, I'd roll up each printable into a scroll, to make it easy to slip into those shoebox mailboxes. For grandparents, I'm putting them into a little frame with a handwritten note.
And while most little boys won't want to be a paper doll, I think you'll love their
Valentine's options
just as much. After all, seeing my little guy decked out in a top hat and tails, or in Superhero tights, is pretty priceless. –
Christina
Check out the Valentine-themed cards and party invitations at TinyUs.
*Please note that the headline is topical snark and in no way is meant
to imply that we do not like paper dolls from other countries. Except
for one very small one that shall remain nameless. Nope. Not telling. Sorry.