I have a serious weakness for margaritas. They are, hands down, my favorite drink. And why not? Let's face it: margaritas are sunshine in a glass. I even keep a bottle of Skinnygirl Margaritas around for days when the kids win and Mommy needs her own special bottle. (I wholeheartedly stand by our verdict that Skinnygirl Margaritas are surprisingly good.) But Cinco de Mayo is no time to be lazy about margaritas. Agreed?
If there was ever a weekend to put a little extra time, care and effort into your margarita, it's this weekend. I've rounded up 10 (yes, 10!) killer margarita recipes that are sure to inspire you. –Stacie
Sometimes, your effort should go into mastering the basics before getting all fancy. Sometimes, a perfect classic margarita is the way to go. If you agree, try this margarita recipe (above) from White on Rice Couple. They are master margarita mixers. And: Their magic margarita formula calls for a secret ingredient you won't believe.
If you don't have Todd and Diane's secret ingredient, then opt for this Perfect Margarita recipe from Honestly Yum. Todd walks you though the careful process of mixing up an ahh-just-right margarita.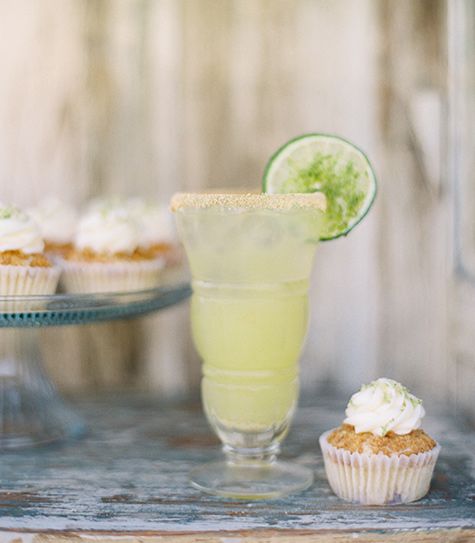 Hankering for a little more zip in your sip? The Ginger Lime Margarita on Design*Sponge is a dazzler with its fresh ginger. Mixologist-bakers Amber and Kevin also rim the glass with crushed graham crackers mixed with sugar and lime zest. So fun!
This Green Grape Passion Tea Margarita from Daydreamer Desserts sounds heavenly. Josie used her juicer to make fresh grape juice, but I bet this will be just as tasty with your favorite all-natural white grape juice.
This Black Currant Margarita is my own creation and can be found on my blog, One Hungry Mama. Currants are not in season yet, but I share this with you now for three very important reasons. One: you need to have this recipe bookmarked for the summer (I have not used the word "need" lightly). Two: you can use the same infused simple syrup technique using any berries (I say go for blackberries for Cinco de Mayo). Three: you can see my all-natural fruity rimming sugar in action.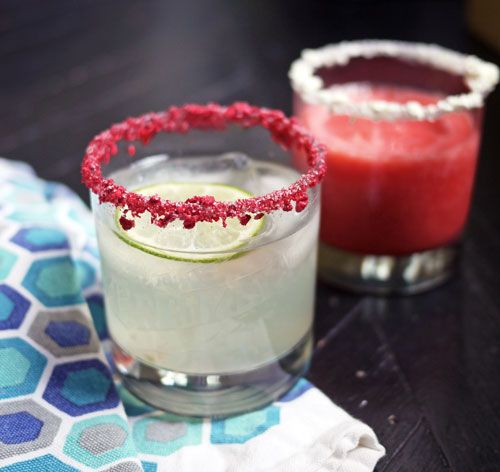 All you need is sugar and a bag of your favorite freeze-dried fruit–you see raspberry and pineapple above–to take your Cinco de Mayo margaritas to the next level!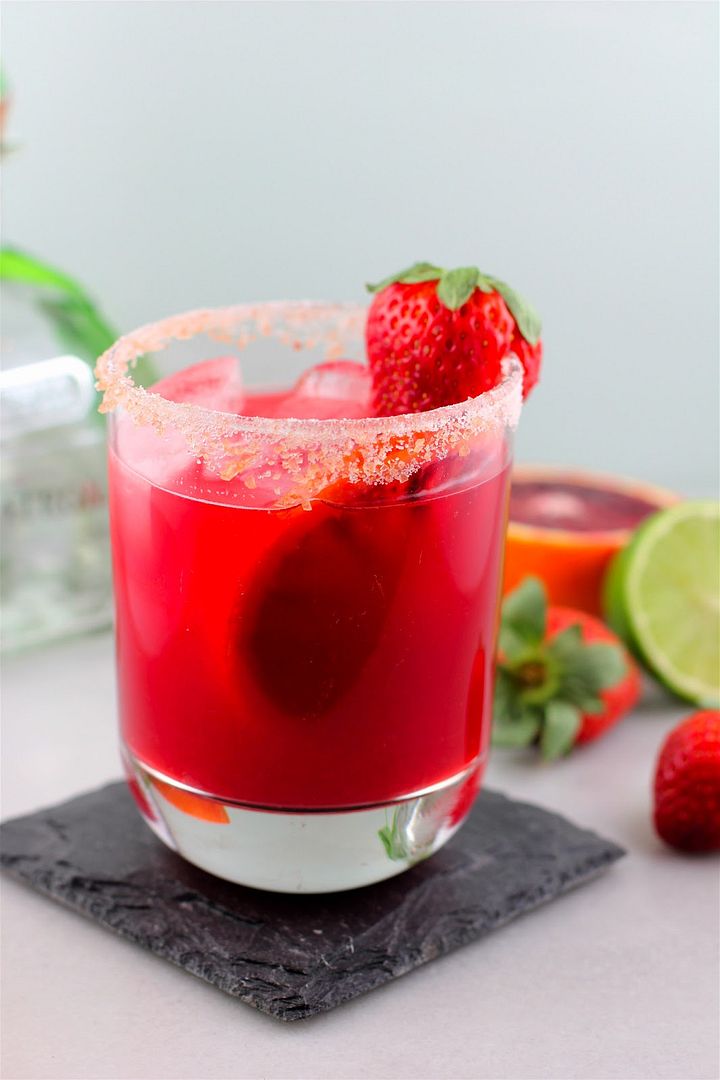 Since we're talking seasonal, this just might be the perfect time to squeeze in a Strawberry Blood Orange Margarita from The Devil's Food Advocate. Blood oranges are going out of season and strawberries are coming in, but if you're lucky enough to live in a place where you can get your hands on both, you should make these inmediamente.
Guava juice is always in season! Paired with my favorite cocktail and a little orange to keep it sweet, you get this gorgeous Guava Orange Margarita from Une-Deux Senses. Um, yes, please.
All right, I confess: you need a juicer for this one. I know, I know. But if you have one, you are minutes away from wowing a crowd with Cucumber Margaritas from Elsie at A Beautiful Mess. Using cucumber in a margarita? Pure genius that adds a bright freshness without too much sweetness. Since I'm obsessed with my juicer these days, you can bet this drink will be a part of my Cinco de Mayo.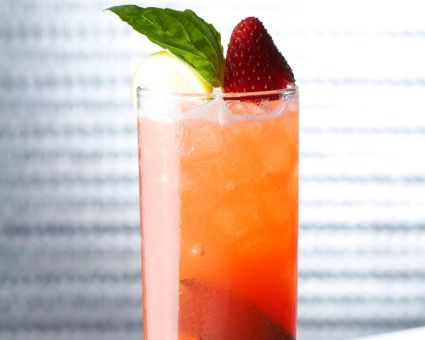 No juicer? No prob. Go savory with herbs in this Strawberry Basil Margarita which is apparently a go-to cocktail at Dish, a hoppin' Dallas nightspot. The fresh basil cuts the bite of tequila. Nice one, Texas.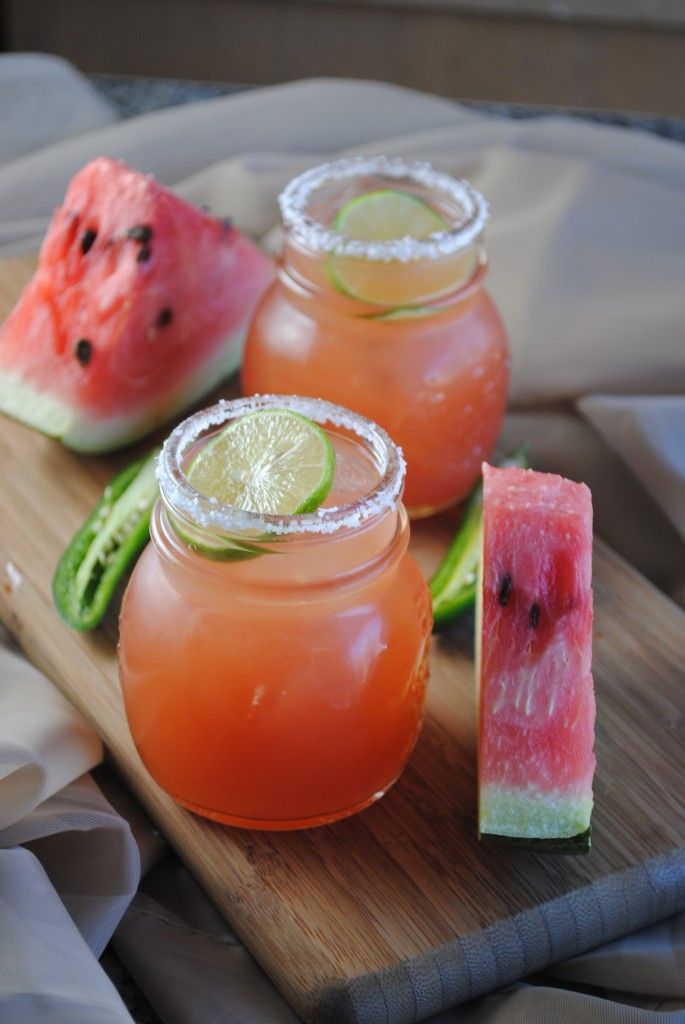 Want to take savory a step further? Okay, mamacitas, kick up your heels with this Spicy Watermelon Margarita from Sweet Life (another Texas winner!). I love the combination of sweet and spicy. Plus, she's an expert: Vianney dedicates a special section of her blog just to margarita recipes! She says that these spicy watermelon margs start cool and end warm. Mmmmmm.