My kids are still young enough to need me to "help" them get their Father's Day gifts, so we're usually scrambling to finish things up before Father's Day arrives. If you're in the same boat, keep reading for some great last-minute, yet still awesome, Father's Day gifts, cards, and "awwwwww" filled ideas. -Christina + Liz
WE LOVE DAD shadow photograph
Pray for a sunny day this weekend and get the kids photographed with a sign proclaiming their love for dad, cut out the letters, and…awesome. This tutorial at Crafty Gator calls for a Cricut Machine but we think an X-Acto blade will do the trick.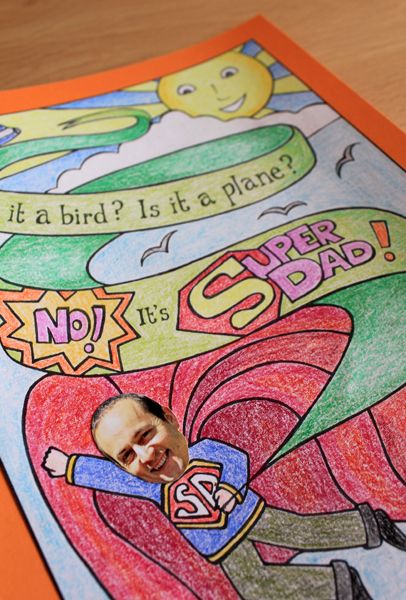 Free Printable Super Dad card
This Alpha Mom project is perfect for your kids' "Man of Steel"…or "Master of Bear Hugs." You can add his own face to personalize it, and on the inside there's a fun Mad Libs style story: [number] [adjective] [animal, plural] could not stop him in his mission to be the best dad ever.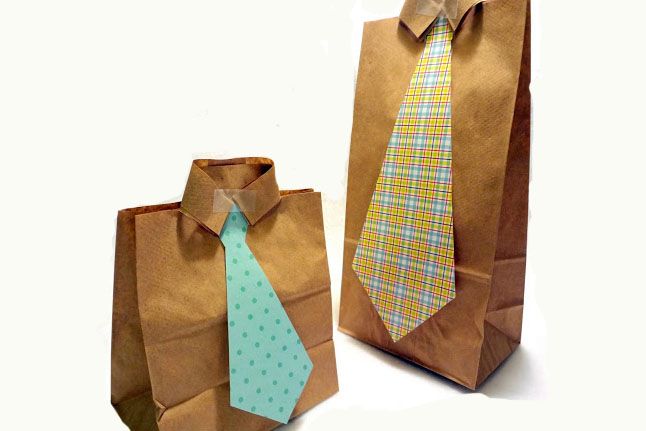 Father's Day Goodie Bag
Tuck his favorite treats into one of these cute DIY bags which are so fun and easy to make. Try vintage candies (Liz's Dad is addicted to Mary-Janes) or even homemade cookies.
An easy homemade video
We're still fans of Animoto's video service for the web, iOS (and yay, now Android) which makes a professional film while you do nothing but pick your favorite photos, music, and maybe some text. It's free under :30 an the results are magnificient, promise.
Printable Father's Day card and gift wrap
Here's a stylish way for the kids to wish him a Happy Father's Day. Get the big pack of Crayolas ready! (via swiss miss)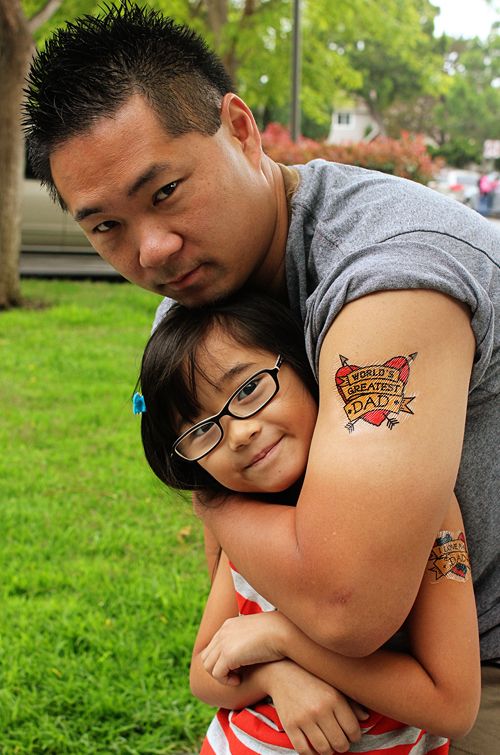 Printable Temporary Dad Tattoos
Get him some temporary ink with these cool printable Temporary Tattoos for Father's Day at Alpha Mom. Then devote some time to your own personal photo session with the kids.
Mr. Printables' Father's Day Glasses
Instead of the tattoos–or maybe with them?–these will make such a great photo prop on his special day especially if you have family coming over. Here's a smart tutorial on how to make a photo booth from your laptop at home.
Any Man Can be a Father Print
This instant download from the Etsy shop Cheyenne Lyons Designs features one of our favorite dad quotes. Just $5.50 gets you the PDF with the print in four colors, but hurry so you have time to print it nicely and hopefully get a frame! (Eh..or the frame can wait. Just roll it and secure with a pretty ribbon.)
Printable Father's Day Coupons
These via Moomah are the coolest ones we've seen, especially when they give him a night to watch child-inappropriate movies, and uninterrupted bathroom time.
DIY Father's Day Note Cube
Last year we recommended this sweet note cube DIY at Martha Stewart. The cube can be found at your local office supply store, and decorated by the kids with fat markers.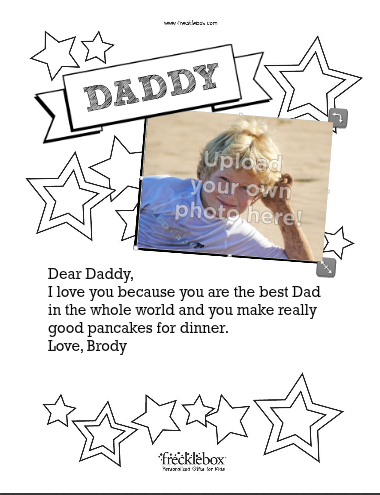 Personalized Father's Day coloring page with photo
Frecklebox's free, DIY template is made even cooler with your own photo, and lets your kids custom the copy to say exactly what they want to say.
Father's Day Handprint Tree Printable and DIY
So perfect for younger kids, just download this free printable at The Crafting Chicks, and get out the paints. To make it more special, consider documenting the craft project and putting your favorite photos–including the kids holding up the finished result–into a framed collage.
A personalized DAD photograph from the kids
We've covered a few cool ways to do this, especially in our Father's Day Gifts from the Kids post, but here's one using the toys your kids toss all over your home anyway!
Get more ideas in our Father's Day Gift Guide 2013 series!