A lot of great new baby gear was born in 2013 and, though we hate to play favorites, we have 9 picks that deserve special mention for being extra-cool, innovative, practical, and helping make life with baby a little bit easier. Maybe even more stylish. Even if you're working on only two hours of sleep and the idea of matching your diaper bag to your stroller is wayyyy down on the list of priorities.
Kinderwagon Hop Double Stroller
We waited a long time for the widespread release of this lightweight and narrow double stroller since we first saw a preview of it a full year earlier. And it was worth the wait! Designed by a mom–and a smart one at that–the Kinderwagon Hop offers premium views for both kids, and makes schlepping the kids around town a lot less schleppy.
Jonathan Adler Skip Hop Diaper Bags
Adler's growing design empire has included great baby gifts for sometime now, so it's nice to see his new stylish collaboration with one of moms' favorite practical bags. More designs, please!

Lotus Everywhere Crib
Its thoughtful design makes this travel crib a standout in an increasingly packed category. Love that it can be worn as a backpack, and the mesh sides insure adequate airflow even if baby wiggles all the way over to the side during the night. Plus,  your back will thank you for that side zipper.
Latchy Catchy Door Silencer
Sure you could use duct tape, but if you want to keep doors from slamming in a house with a precariously sleeping baby, this clever option from an Etsy artist is way cuter. Sometimes it's the little ideas that are the best.
Graco Snugride Click Connect 40 Car Seat
As the leader in infant car seats, we're thrilled to see Graco lead the way with the first rear-facing car seat that's good for kids up to 40 pounds.The base adjusts, as does the recline angle, so you can keep your kiddos facing in that safe, AP-recommended rear position longer than before, without squishing those cute little legs.
Andy Warhol Bugaboo Collection
As fans of both the high-end rugged Bugaboo strollers and the late artist, this is the collaboration of our gear-coveting dreams. The So Many Stars fabric is our favorite of the collection, perfect for both boys and girls, and we love that there's a matching baby board book to go with it.
Also, nods to Bugaboo for their 2013 introduction of the all-terrain Buffalo stroller and the Cameleon 3 as well as a hot collection of new Bugaboo stroller shades. Aaaand the empire continues.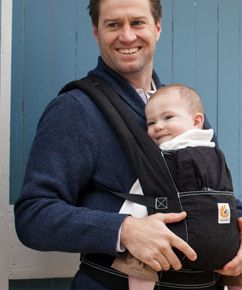 The ErgoBaby X-tra Carrier
With more and more dads (and grandparents and other caregivers) taking to babywearing, kudos to mom favorite Ergo, for developing a new baby carrier with extra-long straps and a longer padded waist belt so taller or larger parents can be as comfy as the baby. We hope more brands jump onto this trend too.
Pello Floor Pillow
Such a comfy spot in which baby can spend some supervised lounging time on her back or tummy, these large, luxurious floor pillows come in gorgeous fabrics that will surely have them added to plenty of registry lists under the "please chip in for a splurgey group gift?" category. The only problem: They don't come in mom size too.
Jennifer Ann Personalized Baby Blanket
This is a wonderfully fresh take on the classic personalized baby blanket with modern typography on organic cotton all made in the US. Check out the matching personalized baby leggings and onesies too.
See all of our Editors' Picks of 2013 for our favorites of the year, and follow on Twitter at #CoolMomBestof2013