As much as we love picking gear, goodies, and gifts for kids, we just can't help ourselves when it comes to picking pretties for ourselves, especially from indie brands and small artists. From cool jewelry and handbags to gorgeous accessories to bring our wardrobe staples to the 21st century, we think moms need special somethings too. Maybe even lots of them. So to close out our Editors Picks of 2013, here are our very favorites from 2013, which we think will still look fabulous in 2014 too. Good, because we'll still be wearing them.
K20 by Karen Ko Jewelry
Spikes were hot this year and no one did them better than Karen Ko in her new 2013 collections. Considering lots of us have pretty much become collectors of her pieces, you know that we really do love them.
Hayden-Harnett bags
These small-label designer bags out of Brooklyn never fail to make us drool, but this year's collection topped our list. Not only are they amazingly stylish, but they're functional enough that you can actually carry what you need (and then some) season after season. Some of our senior staff may have even found them under their own Christmas trees this year.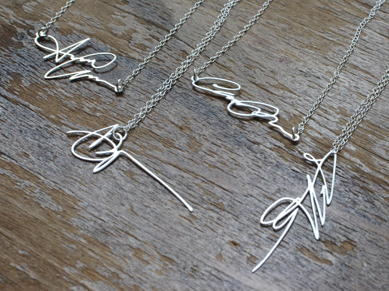 Brevity Jewelry Signature Necklaces
While it's not easy to find "mom jewelry" that lives up to our standards, we were instantly taken with these handmade pendants taken from a person's own signature. Especially adorable if that signature is a wobbly one from a young child. Bookmark for Mother's Day, birthdays, or any special occasion, really.
Sheer Addiction Jewelry
After investing in a few of these gorgeous handmade pieces ourselves, we totally understand why they're called "Sheer Addiction." The designs are really original, blending lots of textures and vintage pieces, most made in extremely limited runs. Plus they can easily be worn to top off a fabulous date night outfit or make the jeans and t-shirt mom uniform seem extra special. Browse the website–no doubt you'll find something calling your name.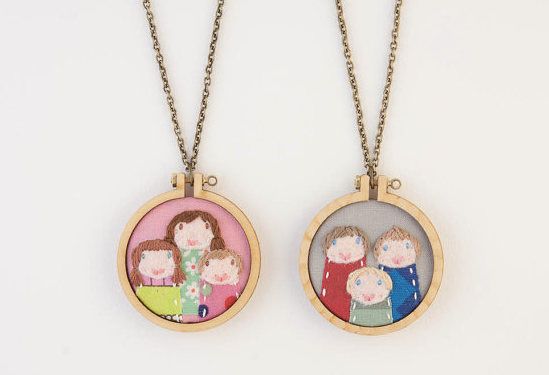 Custom Embroidered Portrait Necklaces from Dandelyne
There's no shortage of remarkable craftsmanship on Etsy, but we were instantly taken with these these fantastic hand-embroidered portrait necklaces based on your photos. Capture a new baby, siblings, or even a pet.  Even if it doesn't get a lot of wear it doubles as beautiful decor hanging off a hook in a bedroom.
Julian & Co personalized rings
For ages, we've admired Julian & Co personalized jewelry and the touching backstory of how this mom run business began. But these sweet, subtle, personalized rings are Kristen's favorite yet.
FashionABLE Genet scarf
The FashionABLE story has captured so many of our imaginations and hearts, ever since Liz visited their headquarters in Ethiopia in 2012. And the amazing designs that support women in need keep coming. You see that black and white Genet scarf? Both Kristen and Liz wear it almost every single day. Good thing we don't live in the same city–though on the few occasions we've accidentally dressed like twinsies, we didn't even care.
Coach bags 2013 collection
We have to give one shout-out to a major brand this year, and you might be surprised to learn that it's Coach. if you've never coveted a Coach bag before, 2013 may have changed all that. We're loving the updated looks, the focus more on the classic leather of the Coach heritage over flash logos, and the modern shapes that are still classic enough to be put into rotation year after year.
Check more of our Editors' Picks of 2013 to see all of our top picks of the year, and follow on Twitter at #CoolMomBestof2013