As someone without an artistic bone in my body, I've always admired those illustrators and artists creating modern custom family portraits and other personalized illustrations. Every year I seem bookmark a ton of them thinking I'll order one of my girls–then never take the plunge. It's such a cool, special gift for a grandparent, a newlywed couple, for a new parent, or a far-away relative. The only challenge: You have to get it together early enough to commission yours in time for the holidays.
And yep. There's my problem. Every year.
So this year (cue angels singing) I'm here in time to help you out if you're in the same position, by tracking down ten really talented artists I think are doing pretty cool things with custom portrait art. And hey, they're fairly affordable too; no $1500 portrait sessions here. Order now, and you'll have one keepsake gift for the holidays that's makes a huge impact for someone special.
Of course before you order, be sure to take a good look at the artist's policies, turnaround time, and estimated ship date. And be sure to approve those proofs quickly! When you're talking completely custom holiday gifts, you can never be too responsive. Christmas and Hanukkah will be here before you know it. Eep!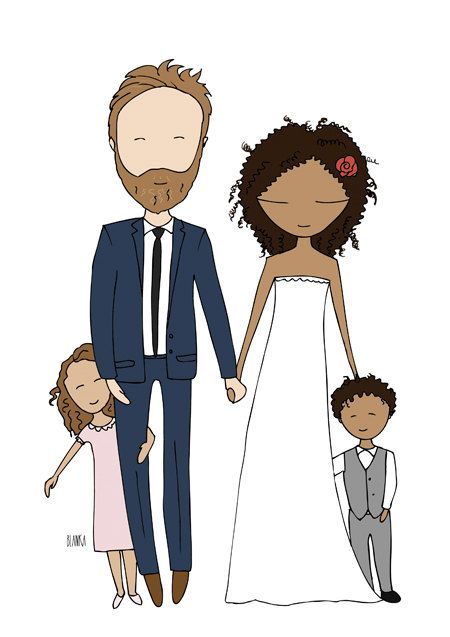 Blanka Biernat custom family portraits ($98.55+)
I love the style of this London portrait artist whose illustrations are so charming, they manage to be cartoony without feeling goofy. It would be an adorable way to illustrate a gaggle full of cousins for the grandparents, and give one gift from all of you.
Turnaround time: TBD, with rush orders available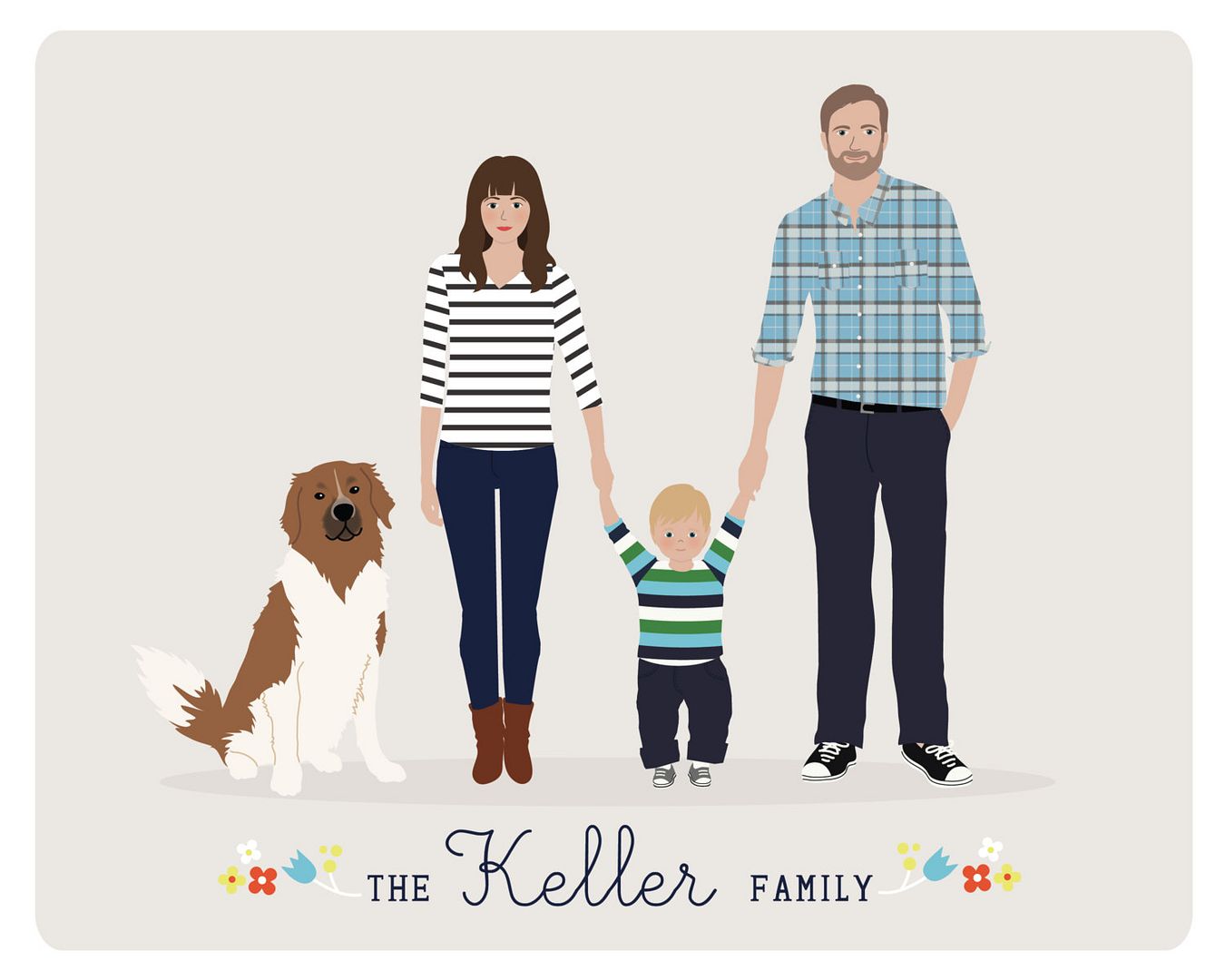 Henry James Paper Goods custom family portraits ($80+)
Earlier this year we featured the custom illustrations from this talented St Louis artist in our Father's Day Gift Guide as one of the coolest personalized gifts, but I think it would be fantastic for any member of the family. Including the four-legged ones.
Turnaround time: 3 weeks

Lili Di Prima custom family portraits ($68.33+)
Cartoony but not juvenile, I absolutely love this Italian artist's digital illustration style down to the textured background. You can get up to four people or request a custom order. I also happen to like the artist's statement that there's "no limit to changes" – when you're happy, she's happy.
Turnaround time: 30 business days (can be negotiable), plus 7-14 days for shipping

Printable Wall Story custom portrait art ($60+)
For an affordable–and faster–option, Istanbul artist Omur Ozsan creates endearing, original custom illustrations of your family in a PDF file and emails them digitally. Just take your finished art to a good printer and print on some sturdy archival stock, then spend the extra on a great frame.
Turnaround Time: The shop policies indicate 1-2 days.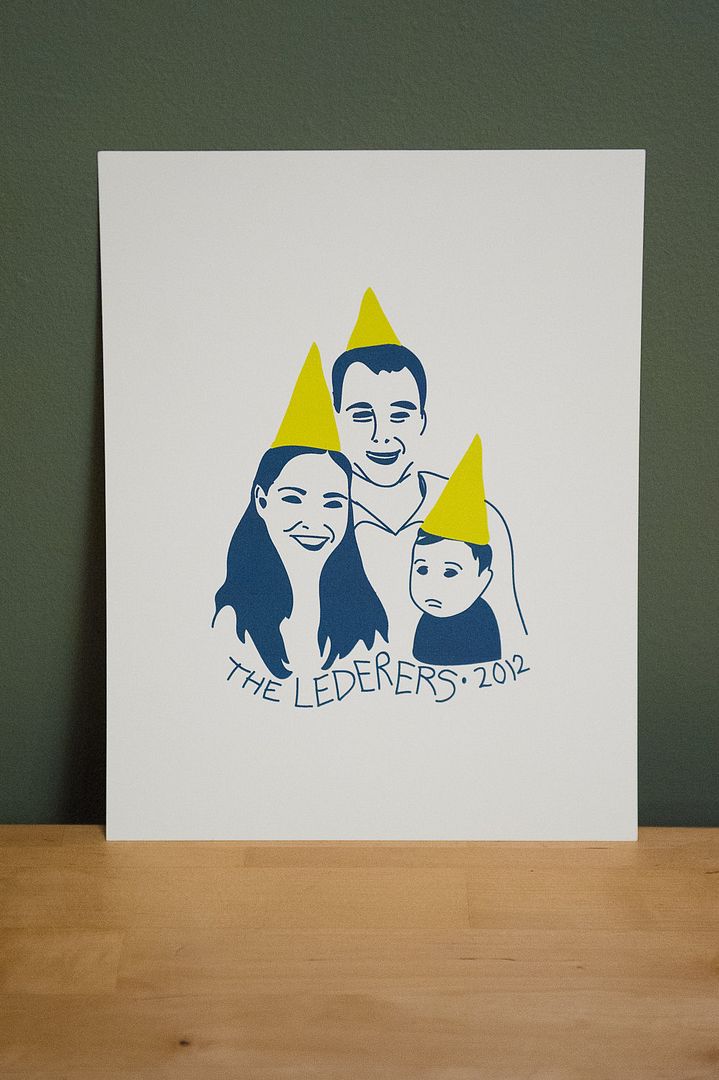 browneye custom family portrait art ($125+)
For one reasonable price, DC's Jill Kimura can get a portrait of two parents and up to four children plus pets. This combo of two-color hand-illustration from a digital adaptation of your photo yields a very cool, minimalist result. Really like this a lot.
Turnaround time: 1-2 weeks

Shh Maker Design custom portrait art ($180+)
For something more quirky and whimsical, check out the custom portrait illustrations from Amanda Shoemaker. I really love her style, whether you want just a portrait or a full body illustration.
Turnaround time: 3-5 business days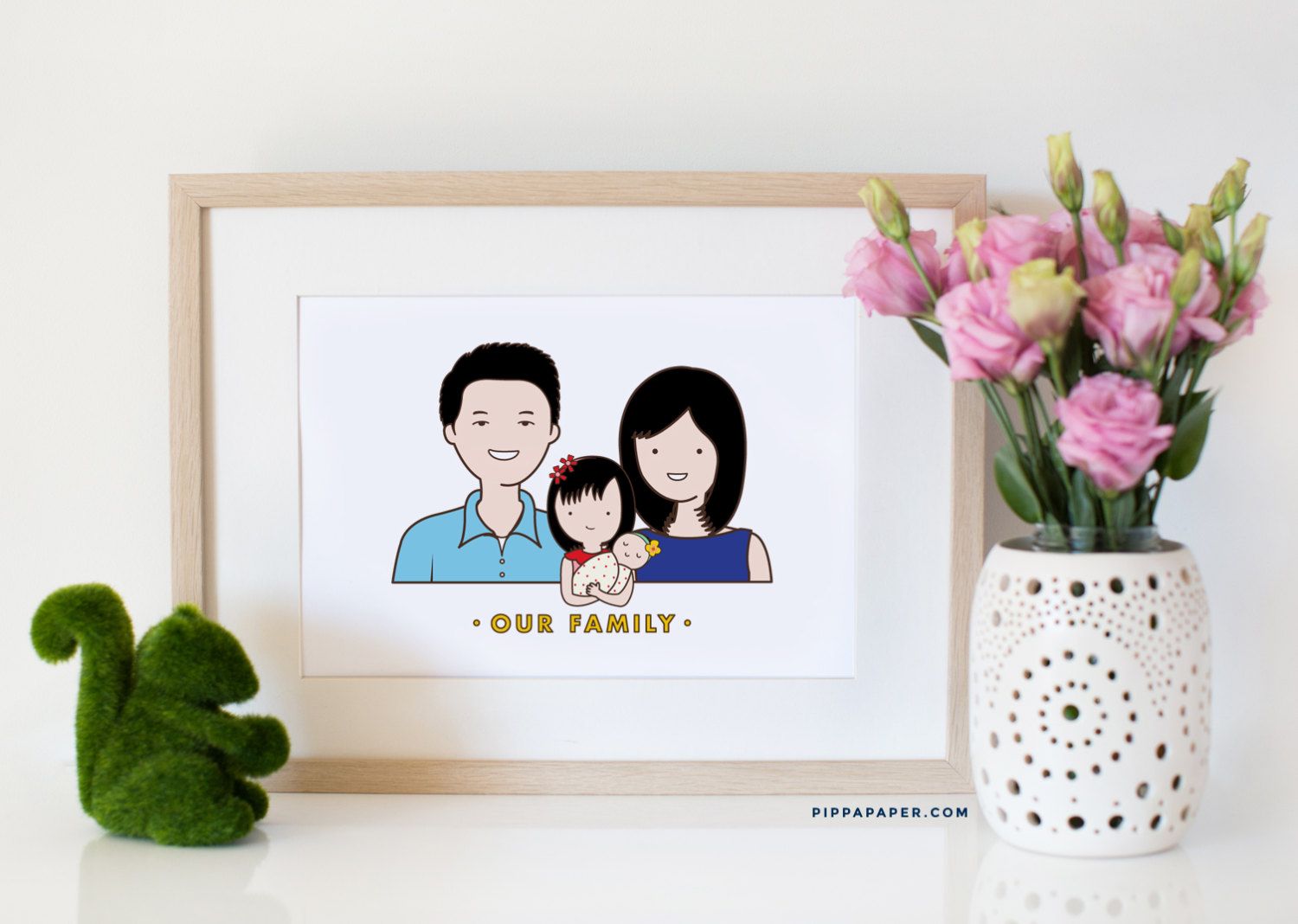 Pippa Paper custom family portraits ($36.12+)
For a very sweet, simple custom family portrait illustration, take a look at this new-to-Etsy Australian artist. She creates super affordable digital files from her original illustrations that you can print; or add another $15 for an A4 sized print to ship to you if you have the time. Her work is so lovely, it was even featured in a regional Martha Stewart publication. Bonus: Get a 20% discount with a minimum AU $40 purchase using code HELLOPIPPA through 11/30/15
Turnaround time: 10-14 days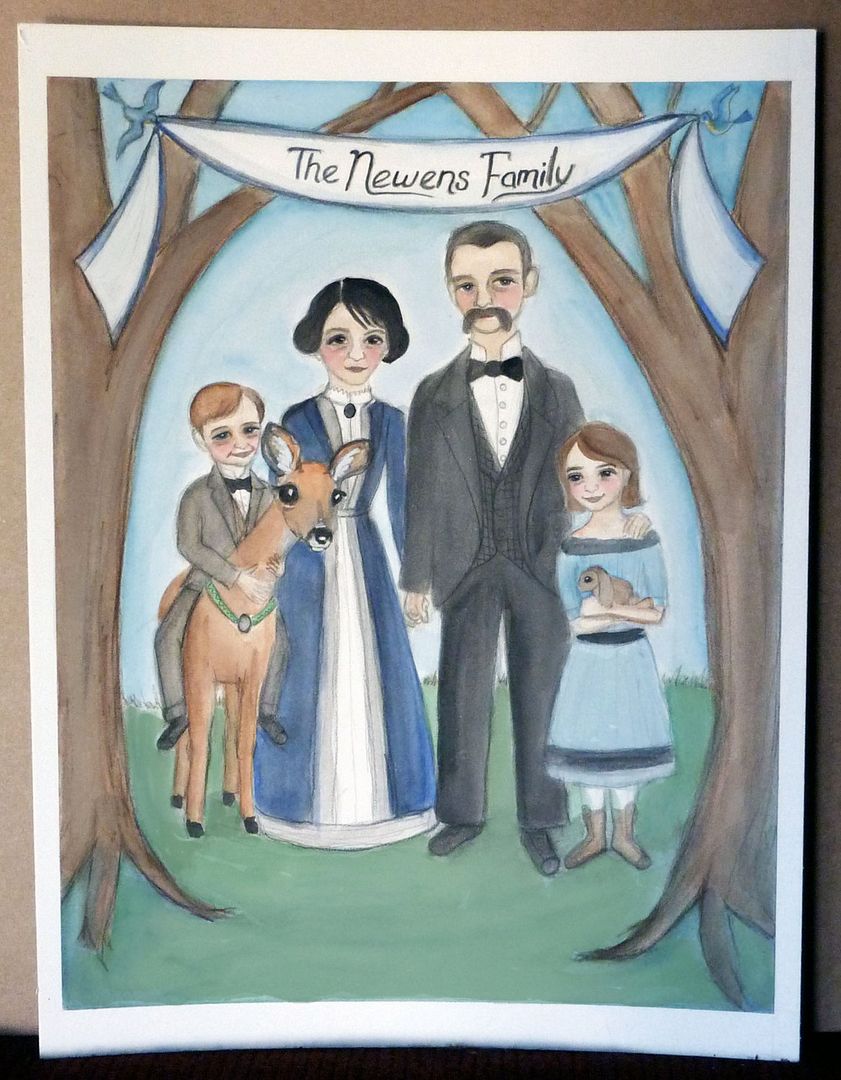 Blue Hour Studio custom Edwardian family portraits ($75-350)
While it's not modern in the truest sense, these Victorian and Edwardian styled watercolor/gouache portraits of a 21st century family are so cool, I couldn't resist them. If you ever wanted to see what your family would look like as a group of Jane Austen characters, Debra Styer's artwork is the way to do it.
Turnaround time: 3-4 weeks

Peanutoak Print custom LEGO family portraits ($39)
If you've got a geektastic LEGO-loving family, we absolutely adore these digital illustrations from Portuguese graphic designer Patricia Salazar Pino, who can turn your brood into a bunch of shiny, plastic minifigs. Plus, you can't beat the price — up to two adults, two kids, two babies and a few pets all for under $40.
Turnaround time: TBD, plus est 3 weeks for shipping
Little Rosa Shop custom peg doll family portraits ($95-115)
For a medium besides illustration, I am so charmed by these custom peg doll family portraits we discovered earlier this year.  Specify everyone's look, the kids' ages, characteristics like glasses and freckles, even how you part your hair. You can have them framed simply against white, or order a custom background like a heart or a beach scene.  Or maybe even a snowman?
Turnaround time: 4-6 weeks during the holiday season, hurry!
For other fantastic custom art and personalized gift ideas, visit our site. We have loads. Can you tell we love this stuff?