A lot of us are heading out for family vacations this month, and while a lot of parents consider a long car road trip with the kids the seventh circle of hell, I like to think of it as…a character building experience. But as tired as I get of hearing, "How much longer?" I'm sure it's less fun for my kids, who are squished together in the back seat on a seemingly endless journey.
When we took a 16-hour road trip (each way) with a 3-year-old and an 18-month-old, I had plenty of time to discover what works and what doesn't. And after talking with lots of other parents who are pros at making long hauls with their kids even more often than I do (like Kristen, who frequently loaded up her four kids and trekked from Atlanta up to the northeast alone, bless her), I've put together some of our road trip tips: ideas and products that can really save you when backseat boredom hits hard.
Or hey, there's always a detour to Wally World.
1. Stock up on snacks and drinks. When you think you have enough? Add a few more.
The number one piece of advice on our list every time we're asked for road trip tips: Plenty of snacks. We've offered plenty of tips for packing healthier snacks on the road, like packing high-protein foods that keep kids fuller, longer, and prewashing fruit and veggie and stashing them in kid-size servings. (Shown here: Lunchbots containers which are fantastic.)
As far as drinks, you can always load up on juice boxes, but I like arming my kids with a good water bottle, like the PlanetBox BottleRocket for keeping drinks warm or cold. Perfect for some not-too-hot hot chocolate to go see Christmas lights too.
Since my kids never seem to get hungry at the same time on road trips, I pack sandwiches and pretzels and let them eat whenever they're ready. It also works well to give each child a bag with some portioned-out snacks in reusable sandwich bags—a mix of healthy and sweet options—then let them choose their own bag every hour of the trip. Letting them feel like they're in control makes them happy, and I like saving time and money by not stopping at fast food joints or rest stops along the way and more than I need to.
2. Bring toys, and stash them where your kids can reach them.
I've tried letting my kids each bring their own tote bag filled with small toys on road trips, and it's not an ideal setup. As soon as that bag falls to the floor, and the toys with it, a meltdown is imminent. Since we don't travel really often, I've looked for easy hacks to make things I already have work in the car. If you travel a lot, invest in a Backseat Entertainment Car Organizer that's designed to hold everything you could need, from wipes and DVDs to toys and water bottles. You can even personalize it with your child's name, and possibly end back-seat arguments over which snack bar belongs to which kid.
Bathtub storage bags, like this Fox Storage Caddie from 3 Sprouts, work great for holding toys in the car because the mesh allows kids to see what they're looking for. Hang them from the back of your headrest with an S hook or a carabiner and your kids have immediate access. And, no excuses to beg for us to hand it to them from the front seat.
Another easy road trip tip to keep toys handy is to stick suction-cup shower caddies to the windows where your kids are sitting, and stash small toys like matchbox cars or figurines and action figures within reach.
And if you're traveling with a toddler who just can't keep a toy in his lap, tie it to him. Or to his car seat, at least. The  Lil' Sidekick toy strap adjusts like a belt to fit anything from a book to baby spoon, so you can fasten it around any toy or snack your child wants. If he drops it, he can just pull it back up into his lap. Which might be the new game that keeps him entertained.
3. Choose toys that will not end up under the front seat. Mostly.

Dropping a toy at some point is inevitable for kids in a car, but set the odds in your favor by not packing oh, say, LEGO kits and Polly Pockets sets with shoes and accessories smaller than your pinky nail. Check your own toy stash before you invest in new toys–though there is a novelty to something new for the car that does keep kids occupied.
If you're looking for some ideas, I like to take along Tegu's magnetic blocks, which are small enough for my kids' hands but also magnetic, so they stay together as kids build. And how awesome is the new Tegu Magbot (above) which bring imaginative character play.
And of course, coloring is always a favorite. We love imaginative and modern coloring books like PhotoPlay!, the Taro Gomi coloring books or Let's Make Some Great Art for older kids because they keep our kids interested by inspiring them to create their own pictures, not just fill in the lines.
You can also keep your crayons organized and in your kid's lap with a zip pouch or a roll-up crayon wallet. And hey, there's always Etch-a-Sketch, or Boogie Board writing tablets which have no crayons to lose in the first place.
Just be sure your kids don't get nauseated by reading or coloring! That creates a whole new set of road trip issues.
Related: 7 of the best toys for the car 
4. Keep the conversation going.

We are so not above popping in a movie for our kids to watch on longer car rides, but too much screen time can make mine restless and argumentative. If your kids have hit their movie quota but you don't feeling like entertaining them (and I get that), try an interactive DVD that will get them talking and laughing with each other. My kids enjoy playing along with the Scene It Junior DVDs, even though they don't have the board set up. Just answering the trivia questions together and being know-it-alls is tons of fun for them.
As far as unplugging, you have a captive audience a road trip is the perfect time to find out what's going on in your kids' heads. Get the conversation going with questions from a Table Topics sets of cards which are so fun.
On Cool Mom Tech, we also put together 4 Minecraft themed car games that have nothing to do with turning on a screen. More like variations on games you know, only for kids who dream in Redstone.
Of course, there will always be Mad Libs, the license plate game, and the alphabet game to keep everyone talking and together, but you can also read short mysteries like Encyclopedia Brown books out loud and have your kids guess the answers–provided you are in the passenger seat, of course! Or, find a book that lets you ask some classic brainteasers or riddles to stump your kids. (OK, they stump me too sometimes.)
A huge favorite of our editor Liz and her kids: The  riddles of Stories with Holes which develop some amazing critical thinking and problem-solving skills. You state a sentence that doesn't quite feel finished, and the kids have to ask yes or no questions to try to understand what it means. The website linked here actually has a great list of them you can print out and bring along for free.
5. If you have little kids, take the potty with you.

It may sound like TMI, but one of our important road trip tips is to have our kids' portable toilet in the way back of the car. This has saved us when we've taken training toddlers on long stretches of highway without roadside restrooms.  The Arm & Hammer 3-in-1 Potty, a big hit with our staff, takes air-freshening to a new level–a nice feature for the car, right?
When our kids had to go and there wasn't anywhere to stop, we'd pull over (somewhere safely, of course), let them go, then empty out the potty, rinse with a water bottle, and disinfect before heading on our way. Definitely beats having to clean the entire kids' car seat.
Along those lines, you'll also want to make sure you're stocked up with plenty of baby wipes, tissues, and hand sanitizer. You know, for those moments when your toddler calls out, "Mommy, I got the booger out!" I like reusable wipes, like Lulujo's Organic Facecloths, so kids can also dab up any spills, wipe their own noses, and probably even use them to play some game they've make up.
6. Make an awesome mix tape, er, iPod playlist.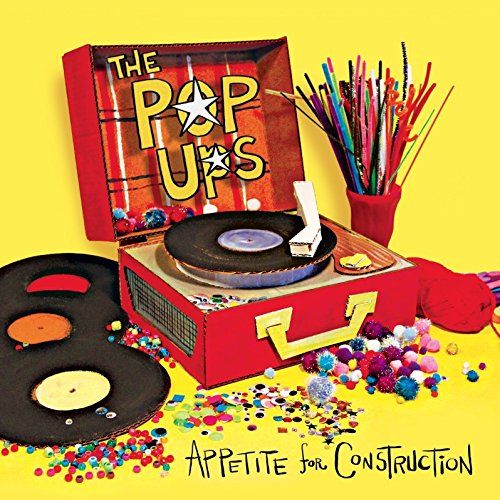 There are some pretty incredible kids bands out there—the kind that make us forget we're listening to kids' music. In fact, we don't even call it kids' music since we like it too.
Let your kids help you set up a playlist with their favorite songs and mix up their choices well enough that they know their selection is always coming up soon.
Our playlists include the modern-pop electronic sounds of The Pop Ups, the super-peppy and very danceable Key Wilde and Mr. Clark, the playful Caspar Babypants featuring Chris Ballew (who you might recognize from his former days fronting The Presidents of the United States of America) the mellow tunes of Walter Martin, the smart lyrics from Danny Weinkauf, and just for fun, the Yo Gabba Gabba soundtrack.
Of course there's always Dan Zanes and Friends, who is pretty much made for family car rides with passengers of all ages.
Even though we're pretty sure you'll enjoy plenty of this music with your kids, obviously there's a limit to what most parents can handle. Go ahead and download it to your mobile devices too. We like packing Buddyphones volume controlled headphones which have a splitter built in so more than one kid can listen to the same tablet. The LilGadgets Bluetooth Headphones are the first Bluetooth-enabled headphones we've seen designed just for kids, if you want to ditch the wires completely.
Or, save some money and connect multiple headphones you already own with a headphone splitter like the Belkin Rock Star, so if you need a break to catch up on your Serial podcast, the kids can still rock out to their tunes together.
 Related: 14 of the best YouTube videos to keep kids entertained on the road
7. Give your kids a map.

One of the hardest things for a kid to deal with while they're riding along on a road trip is that they don't know how far you've gone or when you'll get there. At least, I assume this is hard for them based on the millionth time they've asked how much longer? So give them something to track your progress.
Celebrate the little accomplishments of passing through that next big city or into a new time zone by wrapping up some coloring books, toys, or just snacks to let them open at these milestones. You don't even need to buy new things to make this work–just raid the bookshelf and toy closet for things they haven't played with recently—and let them enjoy the magic of opening a present.
You can also get the kids to help you create a travel timeline to hang in the backseat of the car. If you're taking a trip you've taken many times before, let them think of their favorite landmarks along the way and draw pictures of them. You can hang them from a line in the back of the car and pull them off as you pass them—this is a great way for them to see a visual reminder of how far you've come and how far you have to go.
Or, if you're going a really, really long distance, you need all the help you can get. Find yourselves a scratch-off map of the US and a travel journal for each kid. Each time you pass through a state they can scratch that one off and know they're one state closer to "yes, we are there yet."
8. Make your car conducive to sleep
In my family, we're all about getting comfy with good pillows while we sleep on long car rides, and one of my favorites is the Hold Me Tight pillow from BlaBla (above). The loops on the side let your kids give the pillow a nice hug while they sleep sitting up, and they look pretty adorable snuggling it.  I also like the the memory-foam kikko'pilo as a pillow for our older kids.
For little ones, consider a car seat head positioners for babies like Elephant Ears, above, which is designed for safety, keeping the baby's head flat against the car seat and just cushioning the sides. Just be sure that if your child is still in a car seat or toddler seat, whatever you choose is safe to use in the seat. Safety first.  The same goes for blankets and loveys–you want to place them on top of the car straps, not underneath.
Finally, it's hard to sleep when the sun is in your eyes, so make your car an easy place to fall asleep by tinting those back windows with a good window shade like the stretch-to-fit shade from Brica which won't obstruct the driver's view.
9. Build in recovery time
When you finally arrive, take a few minutes to regroup before you all spill out of the car and into your hotel or in-laws' house. Take some deep breaths and give some big hugs and cuddles, no matter how whiny your kids may have been during those last 30 minutes. My own family has a "what happens in the car stays in the car" rule, so that fights don't follow us where we go. It doesn't always work, but it's worth the try. And can definitely start the first day of the rest of your vacation of on a great foot.
For more road trip tips and must-haves for your journey, check out our picks for the most helpful tech accessories for road trips with kids and check out our On the Road pinterest board for road trip apps, parents' helpers and more.
[Photo Credit: National Lampoon's Vacation. Of course.]